What is it?

The Hongqi H9 was one of the most talked about Chinese vehicles of 2021, so the company had its work cut out for it when it came time for a follow-up. They would need to create something bigger, bolder, and preferably all-electric. What they came up with was the E-HS9, and all we can say is, "mission accomplished".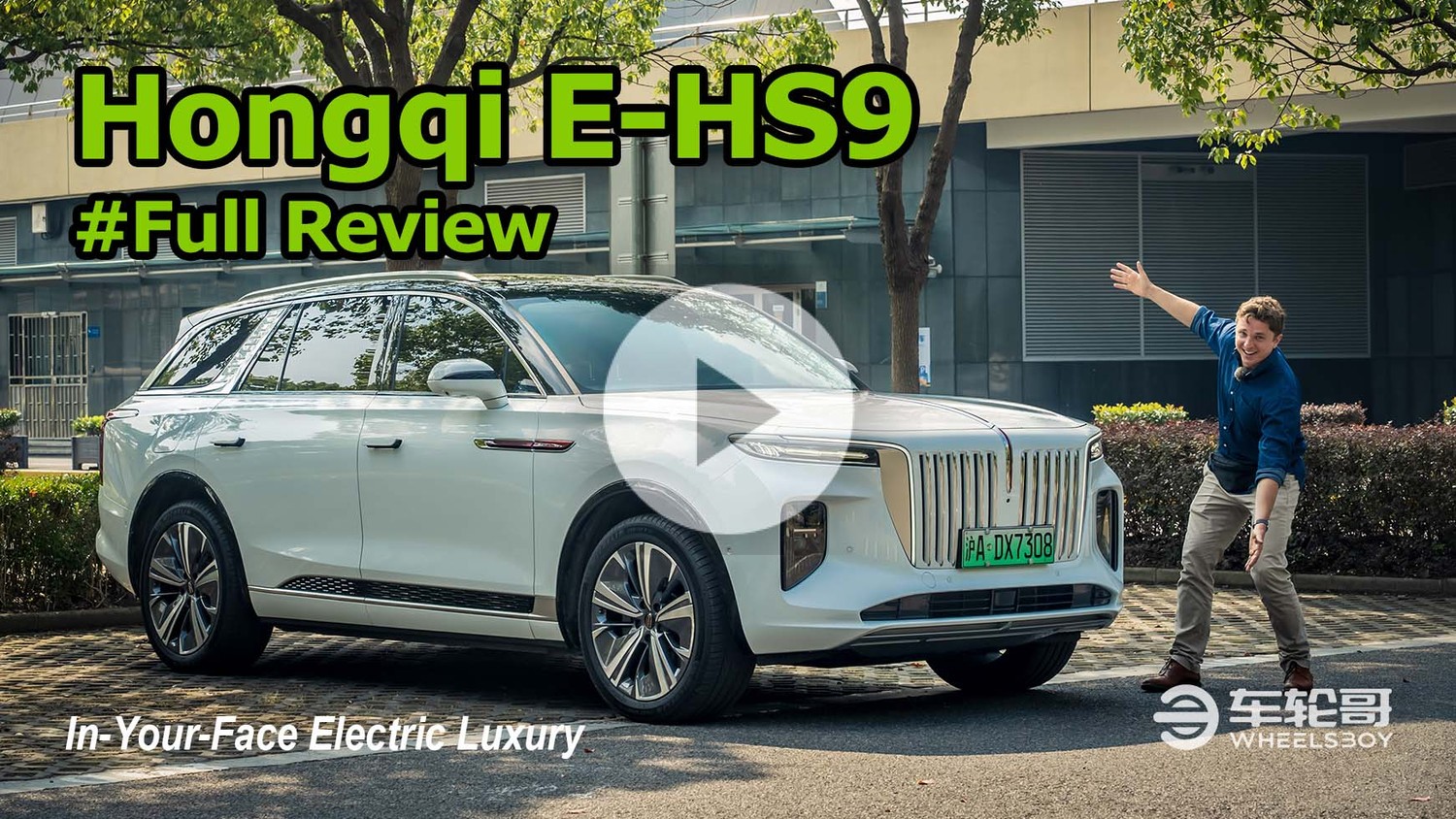 Subtlety need not apply
When it comes to great design, subtlety can be a powerful tool. You know what else can be a powerful tool? A hammer. The design of the E-HS9 is definitely more of a hammer, a blunt force weapon that demands your attention. It's no surprise that it has a strong family resemblance to the H9, but since that sedan cribbed quite a bit from the homework of companies like Rolls-Royce, the E-HS9 can't help but do the same.
That doesn't mean the E-HS9 has nothing to separate it from the design of that venerable British motoring house. We might go so far as to say that it outshines the Cullinan in certain areas.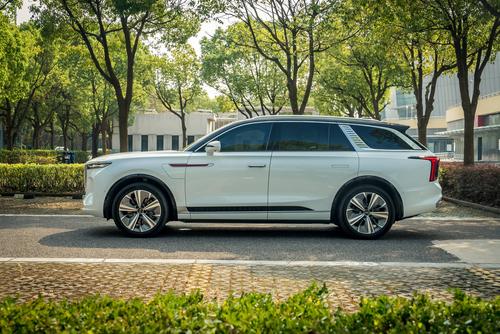 Take, for example, the way the chrome window surround sweeps along the top of the greenhouse to intersect with the large chrome element at the D-pillar. It reminds us of something you might see on an airplane or a power boat. That chrome panel also has LEDs that indicated its state of charge, a very nice touch.
Interestingly, the owner of this car insists that one of the biggest reasons he bought it, was because he thought that driving a local brand would be more low-key than driving a foreign brand, like BMW or Mercedes.
He would be completely correct in normal circumstances, as driving a foreign brand here in China will almost always get you more attention, but the E-HS9 is not normal. It wasn't till he noticed all the people on the side of the road taking pictures of him that he realized his mistake. Still, he says he loves it nonetheless.
Old school meets new school
The interior of the E-HS9 manages to carry over the same sense of occasion you see on the outside. This is not a cheap car, with prices ranging from 84,000-114,000 USD. Interior design of other electric SUVs in this price range tends to be clean and high-tech, like a mobile smart phone.
The E-HS9, on the other hand, feels a touch more like old school luxury, what with its traditional shift lever surrounded by wood paneling, and a burgundy color palette straight out of a 1980s Cadillac.
Of course, that doesn't mean the E-HS9 is low tech. You're not likely to find three 16.2-inch screens inside a 1980s Cadillac. There's even a fourth screen in front of the shifter for climate controls. Other features include a 360-degree camera and adaptive cruise control with lane-keep assist.
With that said, while materials choice and design are visually appealing, it must be said that material quality doesn't quite match up to similarly priced vehicles. We wouldn't go so far as to say it feels cheap, but there is more hard plastic than one would expect, and the padding is a bit thin in certain areas, such as the center armrest.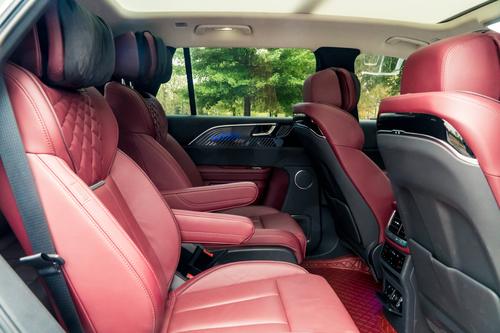 The E-HS9 comes in three layouts; six-seater, seven-seater, and, for the true ballers, a range-topping four-seater version. Our test car was the six-seater variety, and offered plenty of space for both first and second-row occupants.
Unlike some of its direct competitors, there isn't much in the way of adjustability or extra functions for rear occupants, just a small screen for climate control settings and a slew of power outlets.
The third-row seats are large enough even for adults, but still not somewhere you want to get stuck during a long road trip. They do, however, get their own USB ports and climate control vents.
The E-HS9's 5.2m (205 in) length means it can still offer decent rear cargo space despite its three rows. Not only can third row seats be lowered at the touch of button, it also offers a button for lowering the air suspension to improve ingress and egress for rear cargo.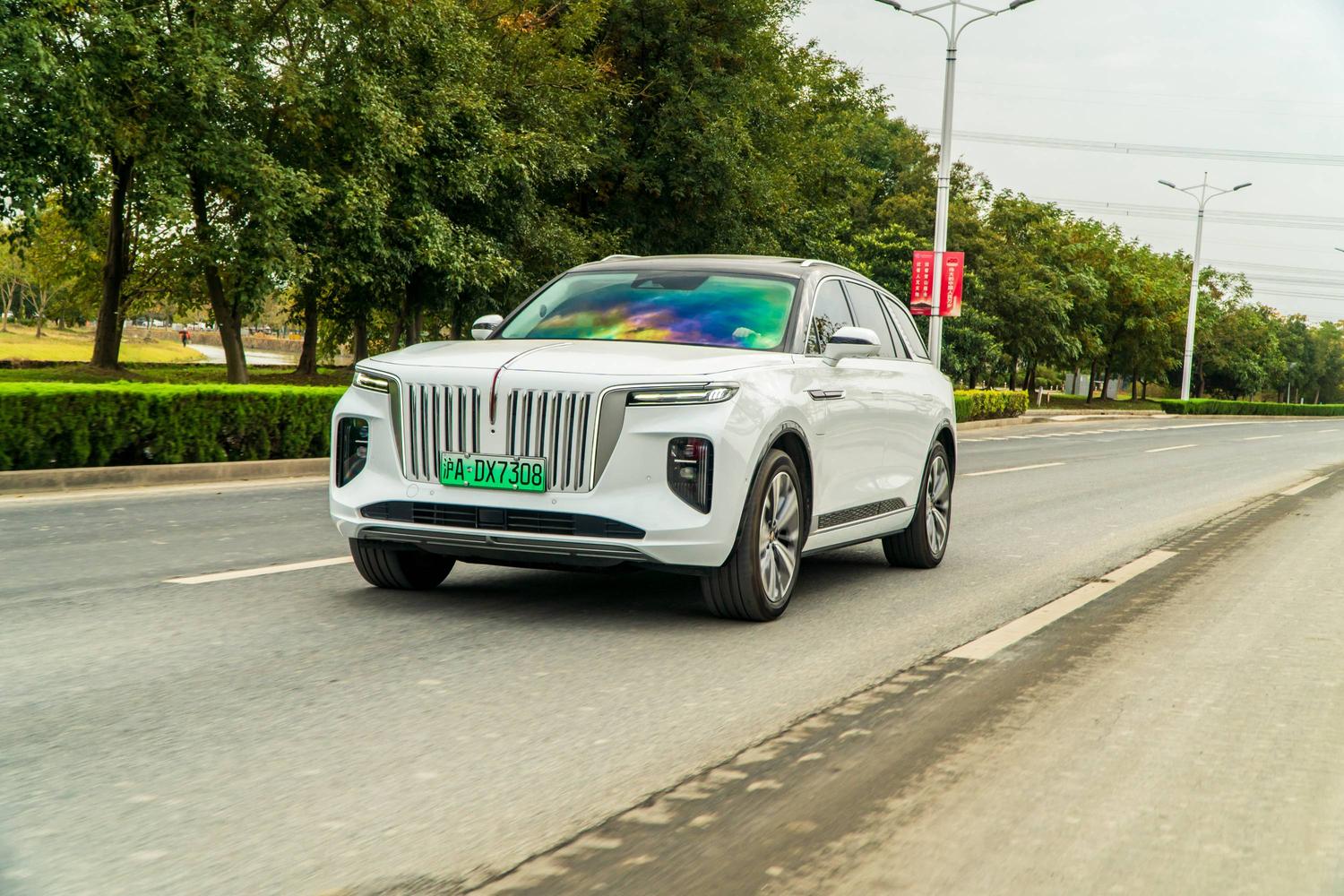 Electric land yacht
The E-HS9 can be had with two different powertrains, both of which feature an electric motor mounted in the front and the rear. The first offers 320 kW and 600 Nm of torque (430 hp and 444 lb-ft).
The second option, and the one fitted to our test car, ups the power on the front-mounted motor for a total of 405 kW and 750 Nm of torque (543 hp and 555 lb-ft).
The lower output version comes matched to an 84 kWh ternary lithium battery pack with 460 km (285 miles) of NEDC range, while the more powerful version gets a 99 kWh battery pack with a range of 510 km (316 miles). These ranges are achieved in part through the adjustable energy recovery system, which is buried deep in the menu, but does allow for one-pedal driving.
If you thought the interior of the E-HS9 had a whiff of old school luxury about it, the driving experience you will give you full-on waves of nostalgia. With a supple air suspension and plenty of power on tap, this thing was absolutely born for cruising.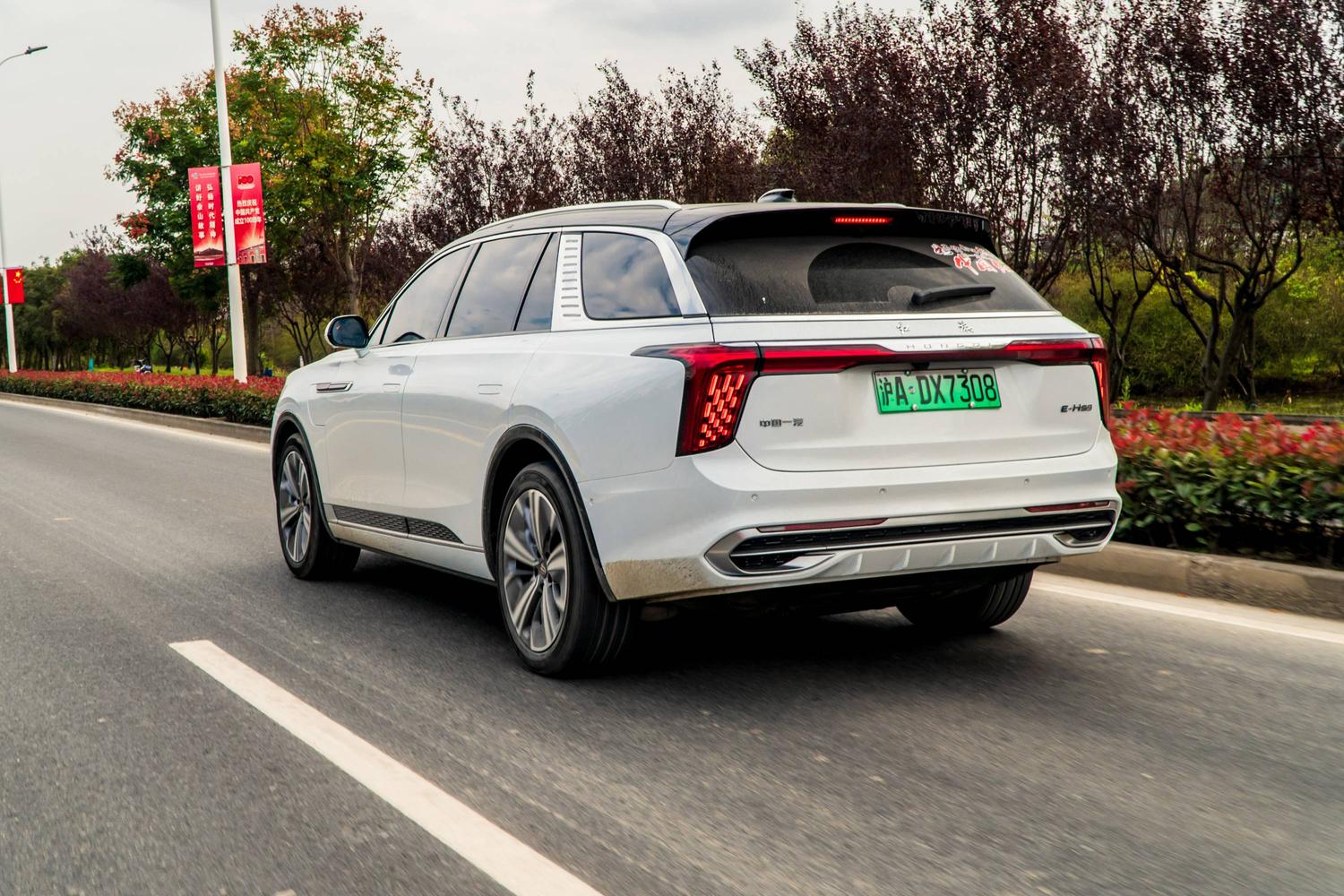 It is a land yacht in the best sense of the word. Put your foot down hard and the huge white expanse of hood will rise like the prow of boat as the rear end hunkers down. With a 0-100 km/h time of around 5.0 seconds, it's not especially fast compared to others in this category, but it is satisfyingly dramatic.
The drama doesn't stop when you turn the wheel, in fact, it only increases. This is a heavy vehicle, and you feel every bit of that weight once you use the light steering to throw it into a corner. If we're being honest, however, buyers of this SUV don't want or need it to be a canyon carver, they just want to turn on the adaptive cruise control, point it in the right direction, and sail.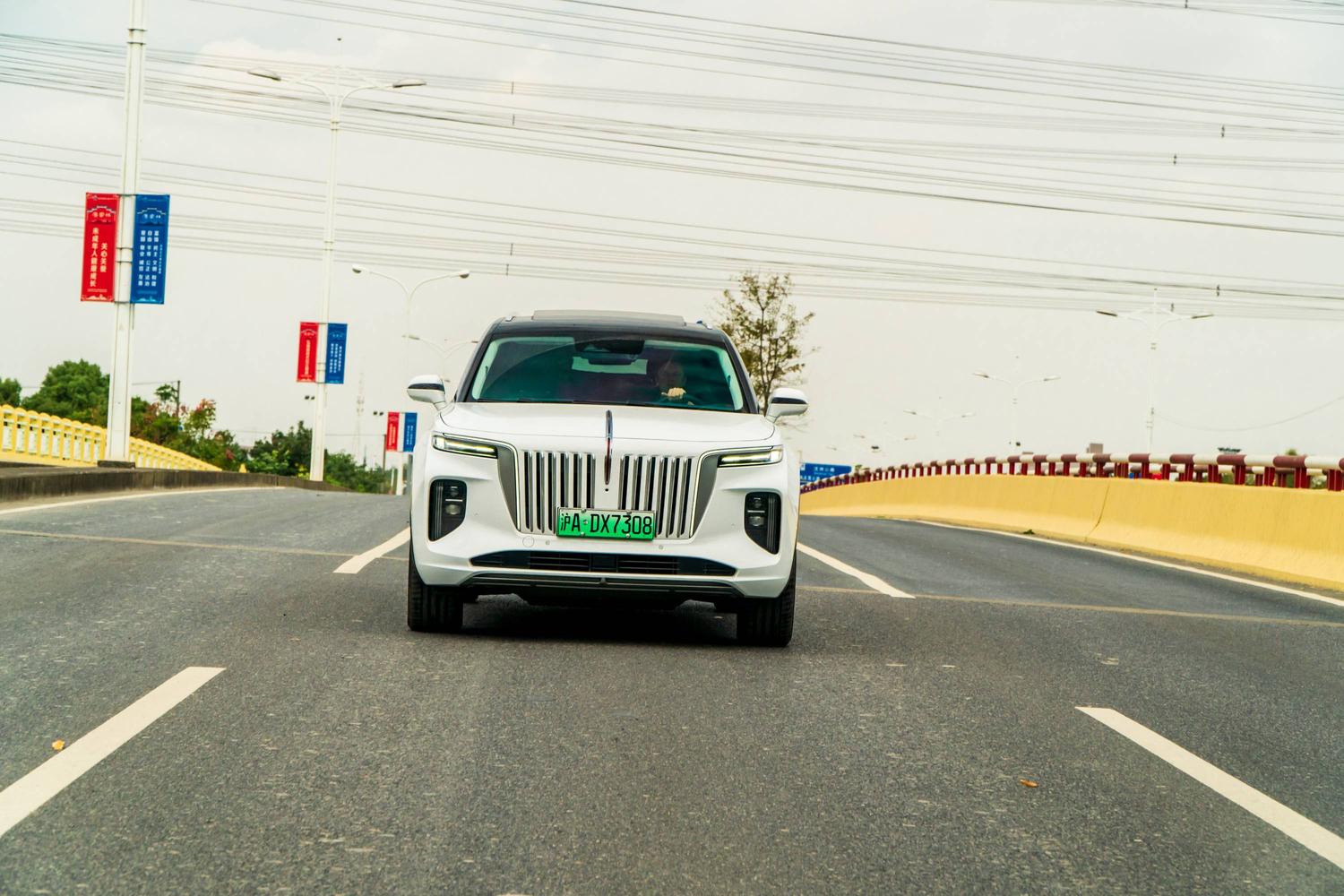 Takeaway
The E-HS9 falls into that category of vehicle that attempts to straddle the brave new world of electric propulsion and the world of old school luxury. How else do you explain the mixing of an advanced drivetrain with driving dynamics and interior styling touches that will make your grandfather feel wistful?
Thing is, that contradiction doesn't make it less of a compelling option, at least to a certain kind of buyer. This isn't a car for the people looking for a mobile smart phone. No, this is for the ones who've heard about those newfangled "eevees" and figured they would give it a try, if only they could maintain the dynamics of their 2004 Cadillac DHS.