What is it?
The automotive industry as a whole is pretty conservative. Changes, when they do happen, are very incremental. But sometimes a small company comes along and says, "Hey, we see how you're doing things, and, we'd like to try something else." Such is the case with the HiPhi X, an all-new, high-end, fully electric MPV, SUV-thing from a company called Human Horizons.
When the HiPhi X debuted at the 2020 Beijing Auto Show, we had our doubts about whether they would sell a single one of them. A year later, the HiPhi X was the top-selling premium electric vehicle in China for the month of September. We decided to find out why.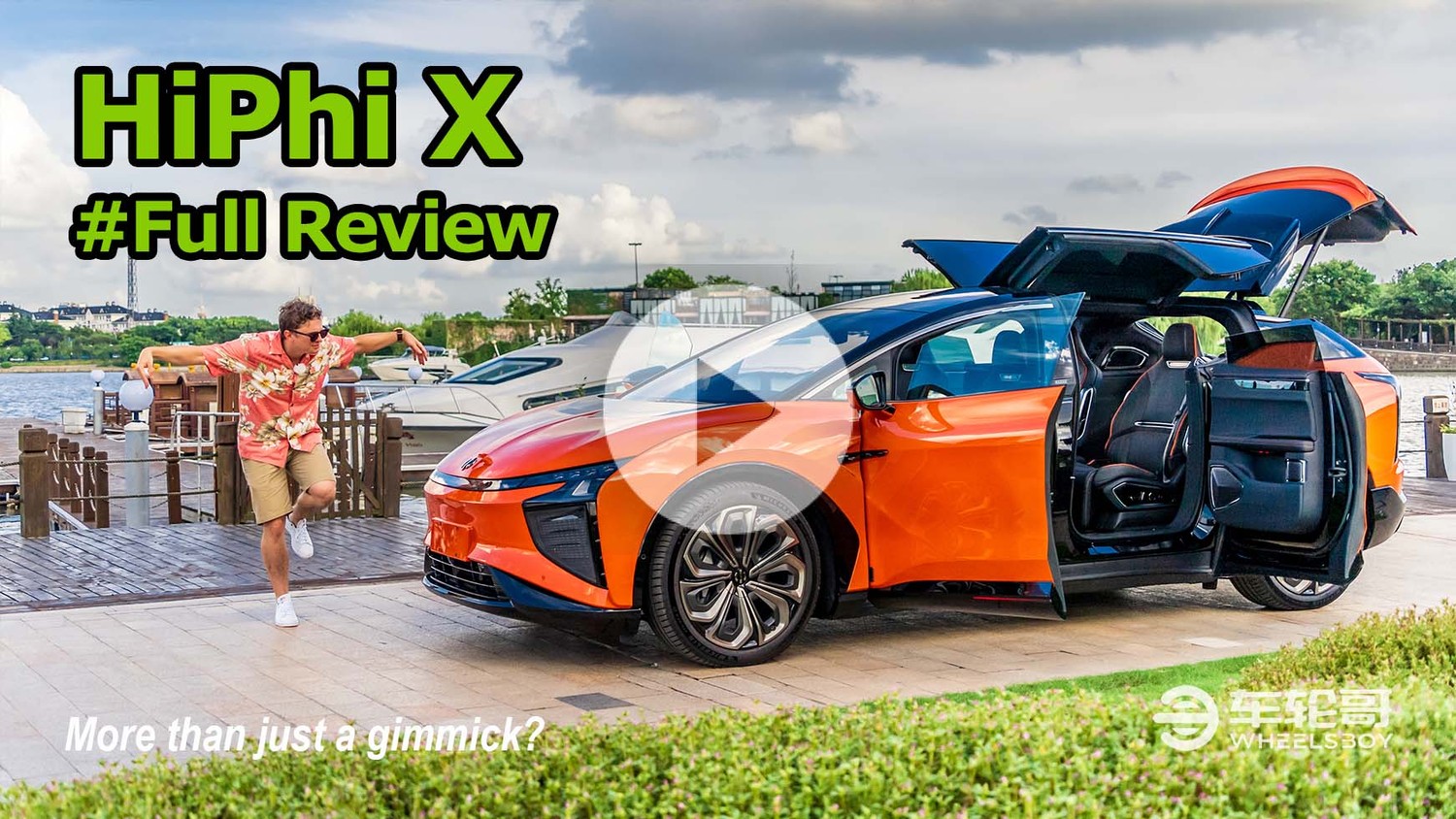 Reverse-opening gull-wing doors (no, seriously)
Referring to a car as futuristic has never been truer than when talking about the HiPhi X. This thing looks like it's straight out of a sci-fi movie, and a high budget one at that.
Below the swooping daytime running lights is a matrix of 2.6 million separate mirrors that it uses to display various images, including a thumbs up or thumbs down, a smiley face or frowny face, and even the image of a walking person to indicate to pedestrians, "Hey, go ahead and walk in front of the car." Not only is there a matching panel on the rear, but the HiPhi also lets you project images on a surface in front of the car.
The HiPhi X is difficult vehicle to categorize. It's not really a SUV, it's not really a wagon, and it's only kind of an MPV. The conundrum only increases when you get to this vehicle's pièce de résistance, the doors.
The HiPhi X's rear doors are a combination of gullwing upper and Rolls-Royce-style reverse opening lower. The upper portion can open up to 90-degrees using a key fob or with a button on the inside of the B-pillar, allowing you to stand up in the back seat.
The front doors have their own party tricks, including automatic opening and closing (using the key fob, the center screen, or by tapping the brake pedal), as well as opening to nearly 90-degrees. The result of all this door trickery is unrivaled ingress and egress.
The HiPhi X comes in six- and four-seater versions, with prices ranging from 90,000-126,000 USD, with our six-seater, Founders Edition test car ringing in at 107,000 USD. Rear cargo space in this version is on the small side, measuring 233L with the third-row seats up and 616L with them folded down. Folding the seats down is a n uncharacteristically low-tech process, requiring one to climb in and pull a lever, rather than being electronically operated. Hardly a deal-breaker, but unexpected considering the cost and nature of this vehicle.
The smallest screen is 14.inches (again, we're not kidding)
The interior of the HiPhi X is, unsurprisingly, dominated by screens. The smallest of which, the instrument cluster screen, still measures a ridiculous 14.6 inches. The center screen is a whopping 16.9 inches, but makes good use of its space with a high-quality 360-degree camera and other features. The UI itself is intuitive and attractive, though response times could be a bit snappier. Overall, not as good as the system in a NIO, but still among the best we've used.
But the proverbial elephant in the room is the monstrous 19.9-inch passenger screen. Devoted mostly to entertainment, it's able to stream movies, TV and video sites. There are also a variety of different apps you can download through the HiPhi app market. Its placement means the HiPhi X does not have a glovebox, but one doubts that will be a major issue for potential buyers.
Once you get over the number and size of the screens, you can start to dig into the rest of the interior. Material quality throughout the HiPhi X is impressive, and well in-line with its asking price. Those bits that aren't leather, such as the door panels, are piano black plastic with embedded lights that help to liven up what would otherwise be a very dark interior.
Second-row passengers are no less cosseted than those in the front, and enjoy heated, ventilated and massaging seats. There is even a one-touch "comfort mode". A simple press of a button located next to the seat adjustments will lean seat back and extend the foot rests. But adjustability doesn't end at lean and lumbar, these seats also move left and right, something we've never seen before.
There is a glass roof over third row occupants, but rear headroom is tight, as is legroom. That one is best reserved for children.

Drives smaller than it is
All-versions of the HiPhi X come equipped with front and rear electric motors producing a combined 440 kW and 820 Nm of torque (598 hp and 607 lb-ft). Those motors are fed by a 97kWh lithium-ion battery pack that can be charged from 30-80% in 45 minutes.
The first thing you notice when you're driving the HiPhi X is its sheer size. At 5.2 meters in length (205 in), it is about the same length as a Mercedes-Benz S-Class. It's also quite wide, at 2062mm (81 in). The sense of size is accentuated by the sloping front end design, which provides great forward visibility, but also leaves you a bit in the dark as to where the corners of the car are located.
The HiPhi X has an air suspension that provides a composed and comfortable ride. Bumps and potholes are an afterthought in this thing. What it doesn't have is the same tightness as the NIOs that we've driven, leaning farther towards the floaty end of the spectrum.
One-pedal driving in the HiPhi X is a satisfying experience, with none of the coasting that happens in some other electric vehicles. This thing will bring itself to a complete stop in a predictable manner every time.
The headline for this car is its massive power and 0-100 kilometers per hour time of 3.9 seconds, and you better believe that it feels as quick as you would expect. In eco and comfort modes, acceleration is relatively smooth, but putting it in sport mode means tire chirping launches.
To cope with its size and ensure stability at higher speeds, the HiPhi X also comes with up to 10 degrees of rear-wheel steering. U-Turns in this vehicle are surprisingly tight, a helpful feature in a car this long.
Takeaway
When we first saw the HiPhi X or the 2020 Beijing Auto Show, we thought it was just one big gimmick. Surely there was no way those crazy doors and giant screens were going to work in the real world. Having driven it, we can tell you that, while not all these innovations are particularly practical, they do work and they make for what is undoubtedly one of the coolest Chinese EVs available today.