What is it?
Li Auto invited us to a testing ground outside of Beijing, where we were able to get behind the wheel of the L9, their three-row, full-size, extended-range SUV. We got an in-depth look at the interior and exterior design of the L9 in our first article, as well as the insane list of features that come with its price tag of 67,000 USD. Now, it was time to find out if it had a driving experience to match.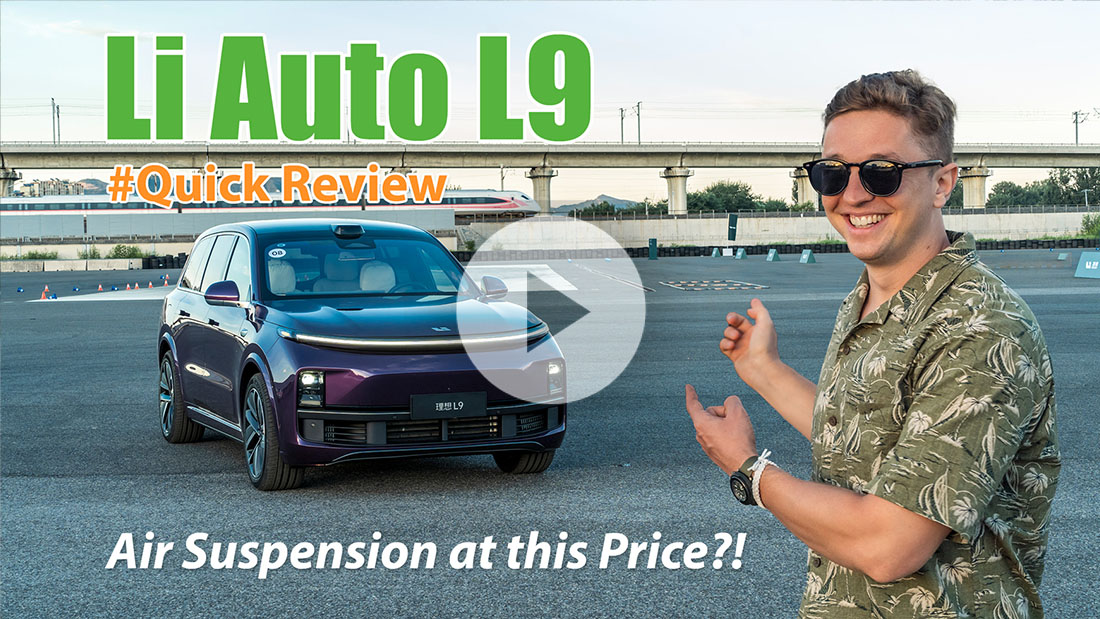 The Power Beneath
The L9 is an extended range EV that uses a 1.5L turbo 4-cylinder generator that powers front and rear mounted electric motors. It also has a 44.5 kWh battery pack that delivers a pure EV range of 180 km on the WLTC cycle. Its motors make a total of 330 kW and 620 Nm of torque (445 hp and 460 pound-feet).
That's no small amount of power, but with a length of over 5.2m (205 inches) and a curb weight over 2500 kg (5,500 lbs.), the L9 needs every bit of it. To keep all that in check, the L9 uses an air suspension with continuously variable damping technology (CDC). It has a double wishbone arrangement up front and a five-link in the rear. According to Li, everything under the L9 was tuned in-house.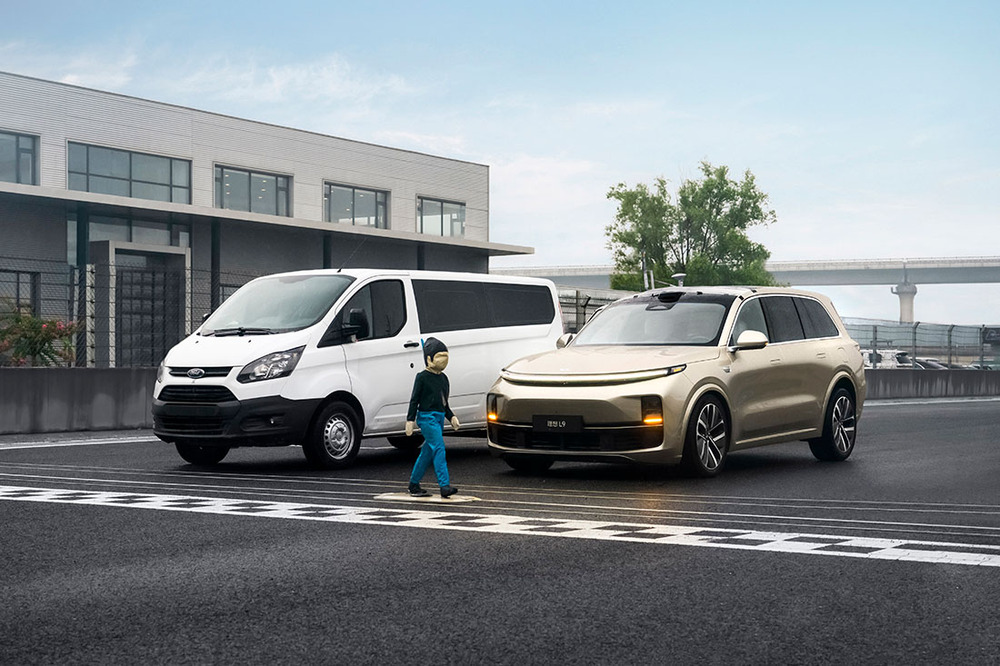 Safety First
Li decided to begin the event by demonstrating some of the safety tech on the L9, starting with two scenarios exhibiting its automatic emergency braking system (AEB). The first scenario was simple, a "child," we'll call him Timmy, walked out from behind a car right in front of the L9. If things went according to plan, the L9 would be able to detect Timmy in time to apply the brakes and bring the car to a stop. Luckily, that's what happened every time, much to Timmy's relief.
The second scenario had us tailing a car at about 70 km/h, when that car suddenly changed lanes, revealing a stopped car in front of us. Once again, the L9 managed to bring itself to halt every time. In some circumstances, the L9's ADAS system detected the vehicle in time to apply the brakes much less dramatically, and in others, the ADAS system initiated the braking sequence, then the AEB took over.

The AEB system on the L9 is unique in one important way; it will not activate if one or more of the occupants have not fastened their seatbelt, or if the sensors in the seats detects that more than one person is occupying the seating position. For example, if an adult is holding a child in their lap, the system will not activate.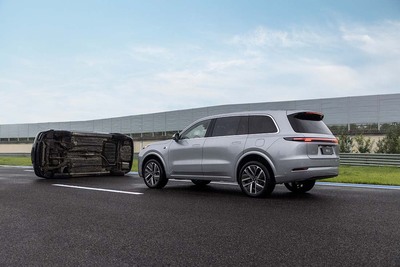 The final scenario was the simplest of all, as the L9 just drove straight at a car that had flipped over. As simple as this sounds, this is something that has confused ADAS systems from other companies. In certain cases, the systems can't reliably recognize the vehicle once it has flipped over, and will simply drive straight into it. Seeing as we are still alive to write this article, it's safe to say that the L9 passed this test with flying colors.
Big Boned, but Nimble
Then, it was finally time to get behind the wheel of the L9 and see how it performed on a couple different courses. The first had us accelerate over a series of speed bumps, followed by several laps around a wet skid pad, and finally a quick slalom or moose test.
This was our first time experiencing hard acceleration in the L9, and it did not disappoint. Its official 0-100 km/h time of 5.3 seconds doesn't match the 4.4 seconds of the NIO ES8 Performance, but it's more than enough to best the quickness of similarly-sized ICE SUVs like the BMW X7 and Mercedes-Benz GLS. We hit the speed bumps at around 70 km/h, and the L9 barely noticed, with little in the way of vibration or harshness making its way through to the cabin.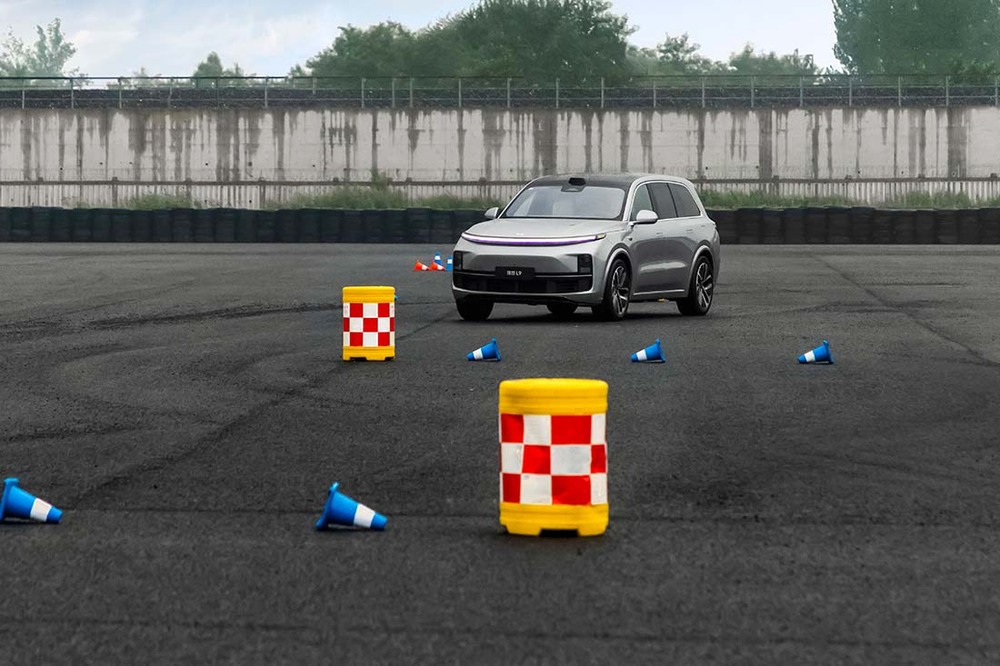 Li Auto told us up front that the L9's traction control wasn't programmed for driving pleasure, but rather comfort and safety. We weren't surprised then to learn that there was a ton of understeer built into the system, and the L9 tended to plow when pushed, especially in its Wet driving mode. However, you could still have a bit of fun with the back end via generous application of the throttle. The moose test came immediately after, so the tires were still quite wet. That didn't seem to bother the L9 and its Michelin Pilot Sports. It exhibited decent body control for a such a large vehicle, though turn-in and steering were on the wrong side of vague.
Now that we were a bit more comfortable behind the wheel, Li Auto threw us on what it described as a "Gymkhana Course." Considering it consisted mostly of parking the L9 in different spaces, we would call that a bit of an exaggeration. Still, it was a creative means of testing how maneuverable the L9 could be in tight situations. The answer is, about as maneuverable as a 5.2m SUV can be. We managed to make it through while only murdering a few plastic barriers along the way.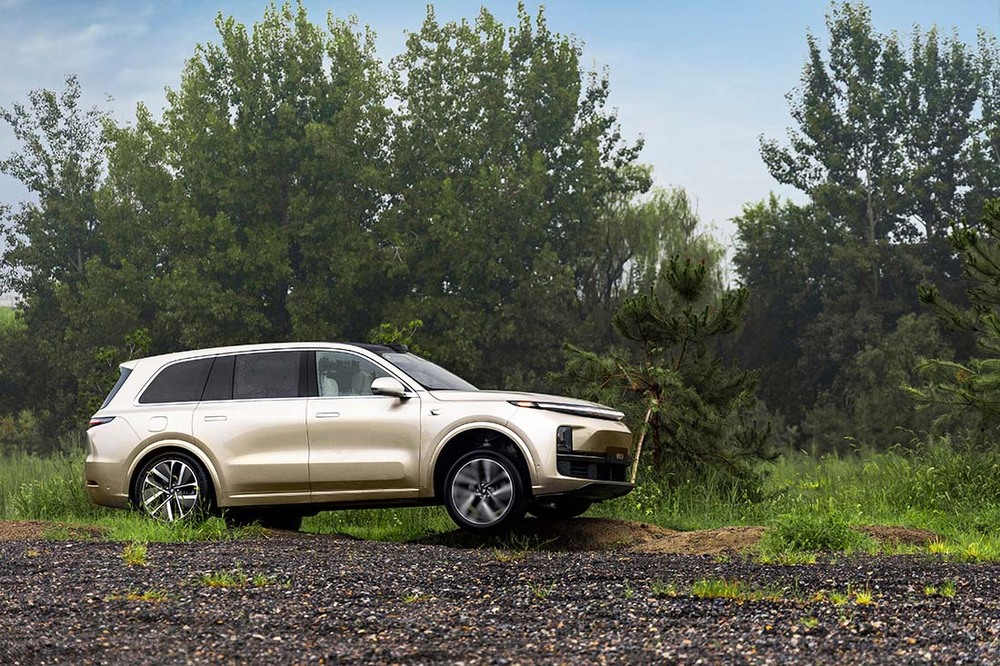 Fording "Rivers" in an EV SUV
Li Auto is quick to point out that the L9 is not intended as a serious off-road vehicle, but that didn't stop them from having us take it through some off-road obstacles. The L9 lacks a locking differential, but its electric motors do allow for precise distribution of power in low traction situations. It's adjustable air suspension provides 13-21 cm (5.1-8.3 inches) of ground clearance. That combination meant that the L9 handled everything we through at it with aplomb.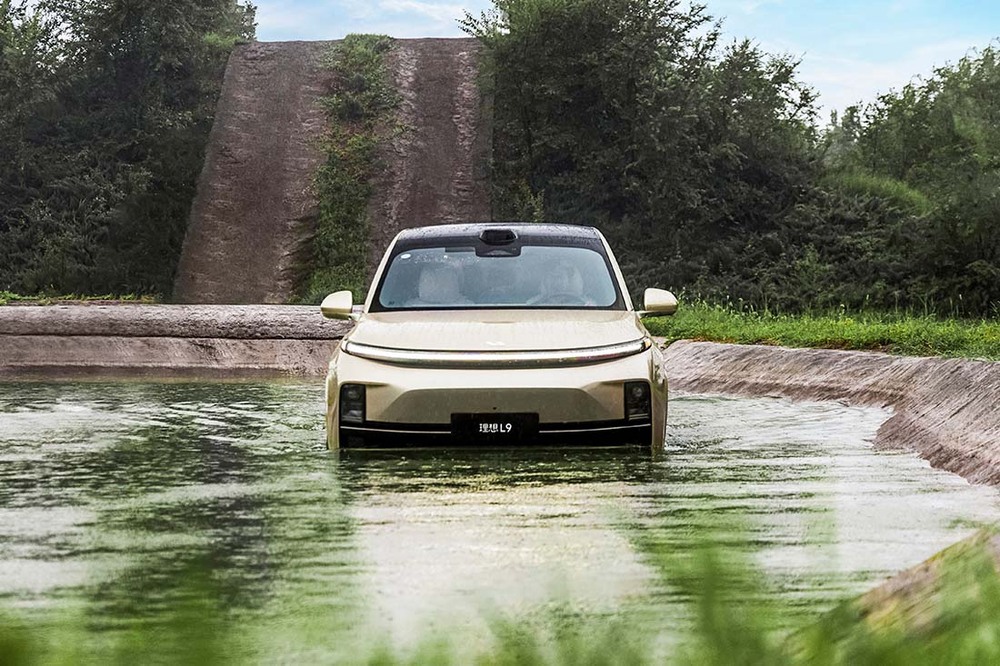 Water proofing is always a concern with electric vehicles, which is probably why Li had us traverse a pool measuring 60 cm (24.5 inches) in depth. The only hiccup was the fact that the L9 scraped its rocker panel as we exited the pool, something that would happen a few times throughout the course. To be fair, a more experienced off-road driver, or someone more familiar with the L9, would probably have avoided this.
To test the L9's electric AWD, we summited a series of increasingly steep inclines, culminating in one that was around 40 degrees. Pictures fail to capture the sheer slopes, but take it from us, all we could see was sky for the duration of the climb. The way up was drama-free, as the L9 never felt like it was at a loss for grip. The same was true of the way down, as we simply activated the L9's hill descent control and cruised to the bottom.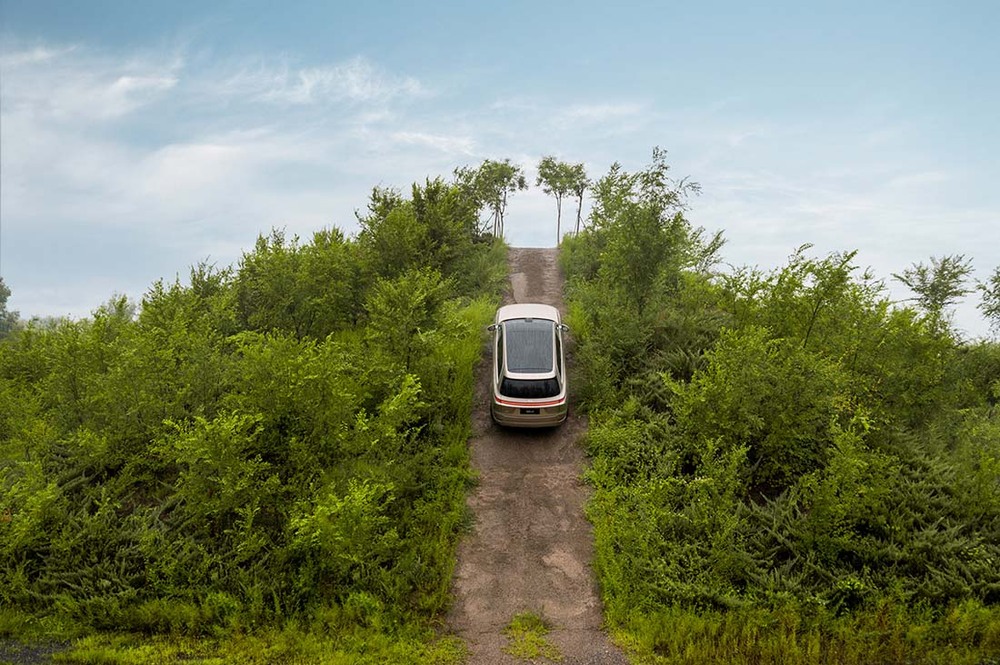 Takeaway
Our first look at the exterior and interior of the L9 let us to concede that Li Auto CEO, Li Xiang, might have had a point when he said that it was the best family SUV available for less than 750,000 USD (that is not a typo). Our first foray behind the wheel reveals that the driving experience certainly veers towards the MPV end of the handling spectrum, but in terms of comfort and driver assistance features, it's hard to find fault with the L9 at its price of 67,000 USD. The only thing that remains to be seen is whether its on-road performance measures up, including a real-world test of its LiDAR-powered AD-MAX driver assistance system. All of that, and a comparison with the BMW X7, will be coming soon!
Specifications

Li Auto L9
Generator: 2.0T 4-cylinder
Motor: Front+Rear-mounted
Total Power: 330 kW, 620 Nm
Battery: 44.5 kWh
EV Range: 180km WLTC
Total Range: 1100 km WLTC

100 km/h: 5.3 seconds
Size: 5218*1998*1800mm
Wheelbase: 3105mm
CDM Price: 67,000 USD