What is it?
Rising Auto is a subbrand of SAIC, but you may know it by its previous brand name, R Auto. We previously reviewed the R Auto ER6 and the R Auto Marvel R, known as the MG Marvel R in other markets. The R7 fits above the Marvel R in the Rising Auto lineup, with prices ranging from 43,000 to 53,000 USD before options.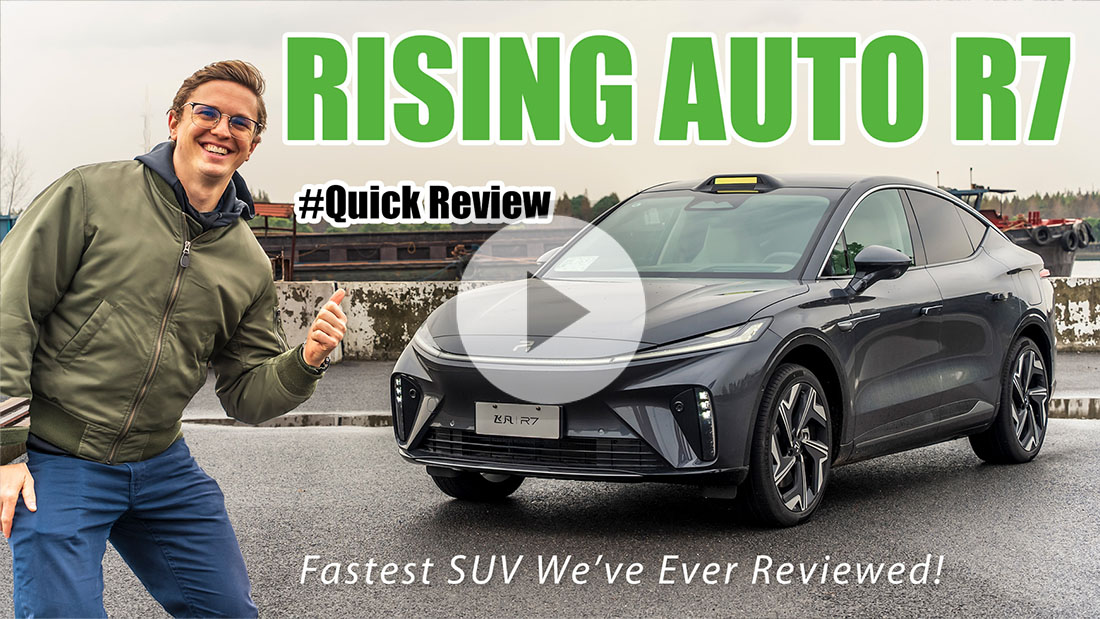 From concept to production
The R7's styling is heavily inspired by the ES33 concept that debuted at the 2021 Shanghai Auto Show. It's not always easy to translate the exaggerated looks of a concept car into the realities of the a production vehicle, but Rising Auto did a fine job in maintaining the handsome looks of that slope-backed SUV.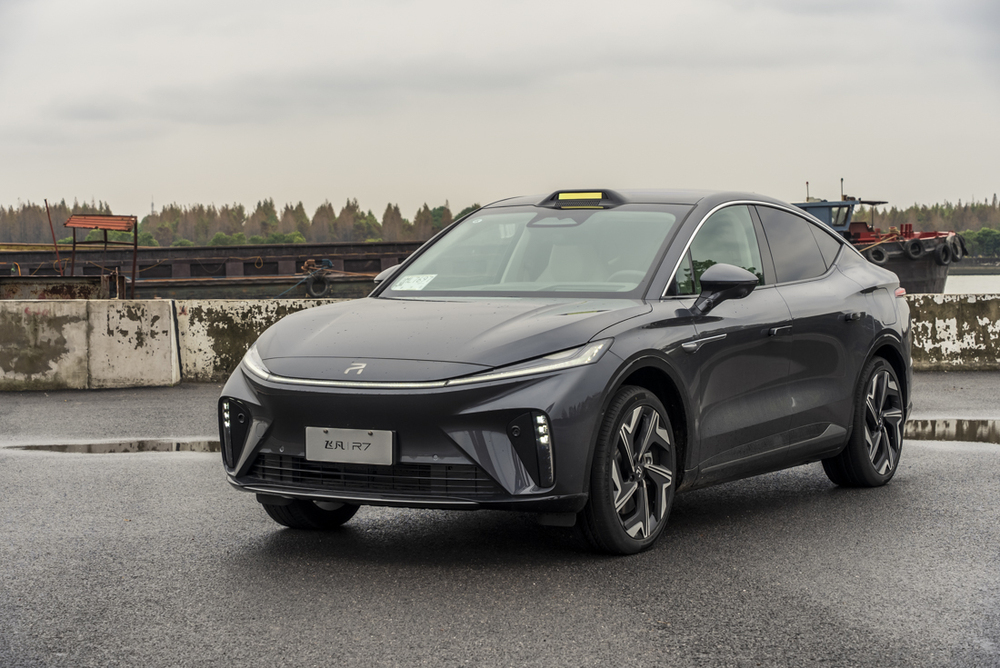 The side profile is, however, highly reminiscent of the Tesla Model 3, particularly the area around the D-pillar. The high rear end means rear visibility isn't all that impressive, but it helps to preserve some of the cargo area lost to that sloping roofline. The space that's left over, 491 liters behind the rear seats, is noticeably less than similarly-sized but slightly boxier competitors like the XPeng G9 (660 liters) and Voyah FREE (560 liters).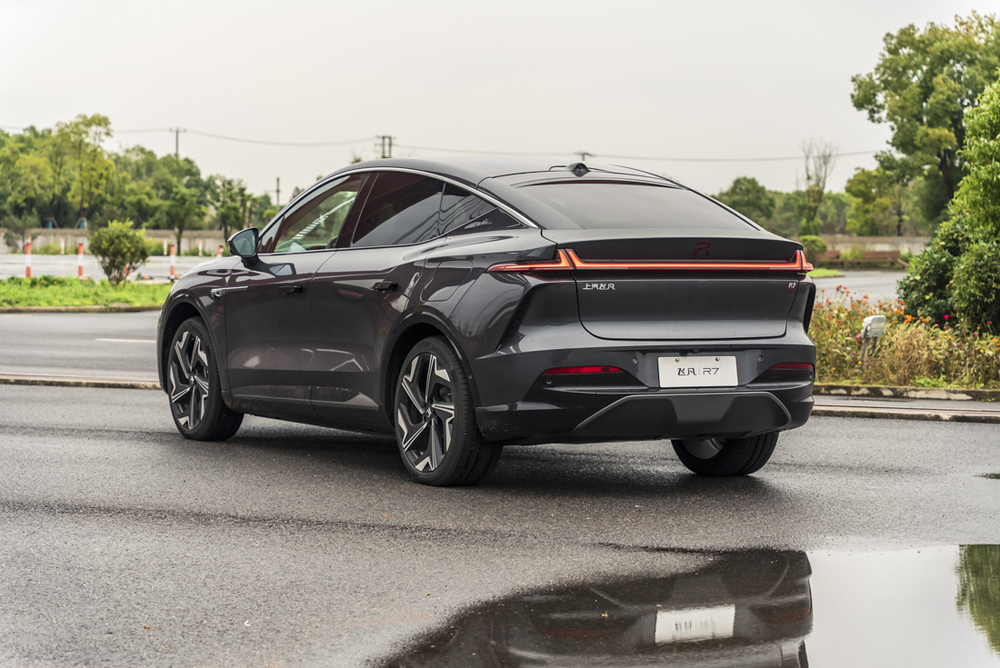 The R7 uses electrically operated door handles and frameless windows, two technologies that have been used together in other vehicles before (like the NIO ET7). That's why it's somewhat perplexing to me that Rising Auto couldn't design a door that doesn't have an obvious and very annoying delay between when the door handle is pulled, and when the glass lowers enough to allow you to open it. This issue exists with both the auto-opening front doors and the "manual" rear doors. The NIO, and every other car I've used with similar technology, does not have this issue.
Another hard to use SAIC product
In this era of massive interior screens, it seems that two different approaches have developed. On the one hand, you have the "slap-it-on-the-dash-and-call-it-a-day" approach favored by companies like XPeng, NIO, and Li Auto. Then you have what we'll call "EQS-style," which is creating one massive slab of screen and black plastic.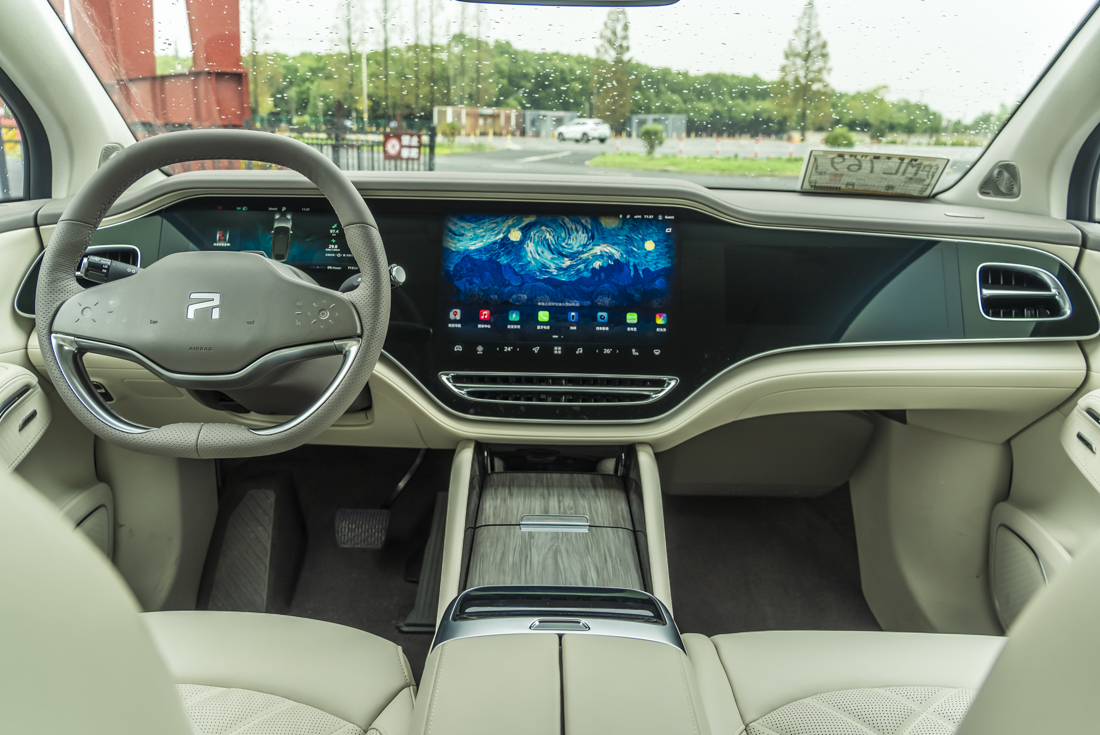 Which one you prefer is entirely subjective, but the R7 happens to fall in the latter category, integrating its three screens, measuring 10.25, 15, and 12.3-inches into a single plane. Another entirely subjective element is the color of this particular interior, which combines drab brown with drab grey to create an atmosphere akin to the reception area at a dentist. I've seen a black version, and I find it much preferable.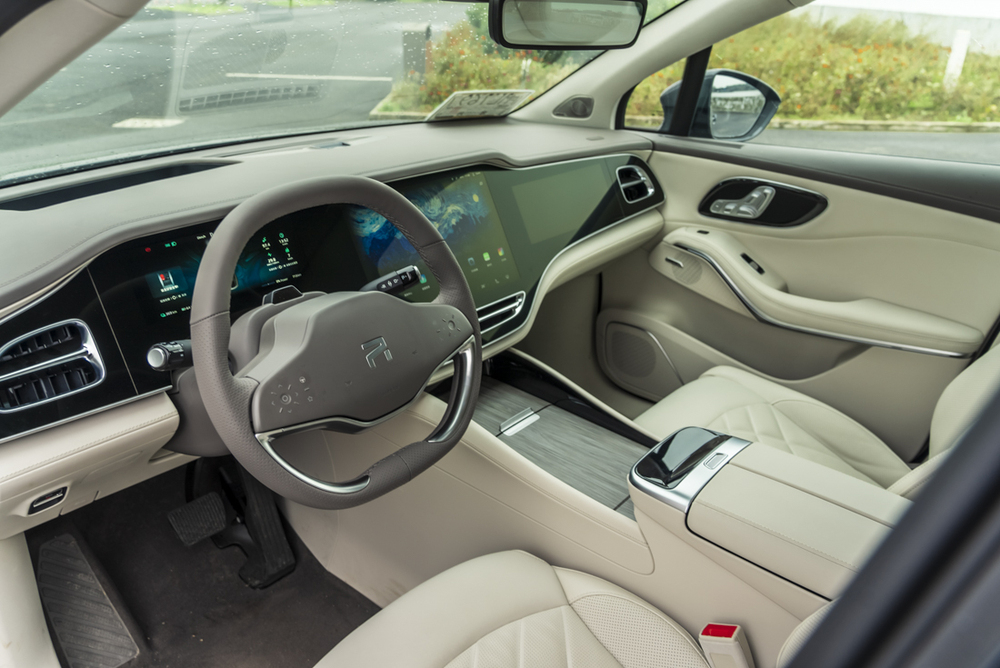 Our highly-specced test car did come with quite a bit of kit, though, including heated, cooled and massaging front-row seats. The driver's seat has all the functions you could ask for, but the front passenger seat is even better, adding not only a leg rest, but also a footrest that fold down from below the dashboard.
The UI on that big center screen is good looking, but some options, like those heated and cooled seats, are slightly more time consuming to activate than they should be. In fact, the experience of interacting with the interior of the R7 reminds me a great deal of the IM L7, another vehicle from SAIC. Material quality and fit and finish are up-to-par for this price point, but useability is not. The capacitive touch buttons on the steering wheel are a bit annoying, but the ones just forward of the center armrest were even worse. Their placement means they need to stay locked most of the time in order to avoid accidently turning on your 360-degree camera or changing driving modes, but activating it can be tricky.
Rear seat passengers get almost none of the goodies enjoyed by the king and queen up front, but rear comfort is decent, with enough legroom for all but the tallest of passengers. Only thing missing is adjustable rake.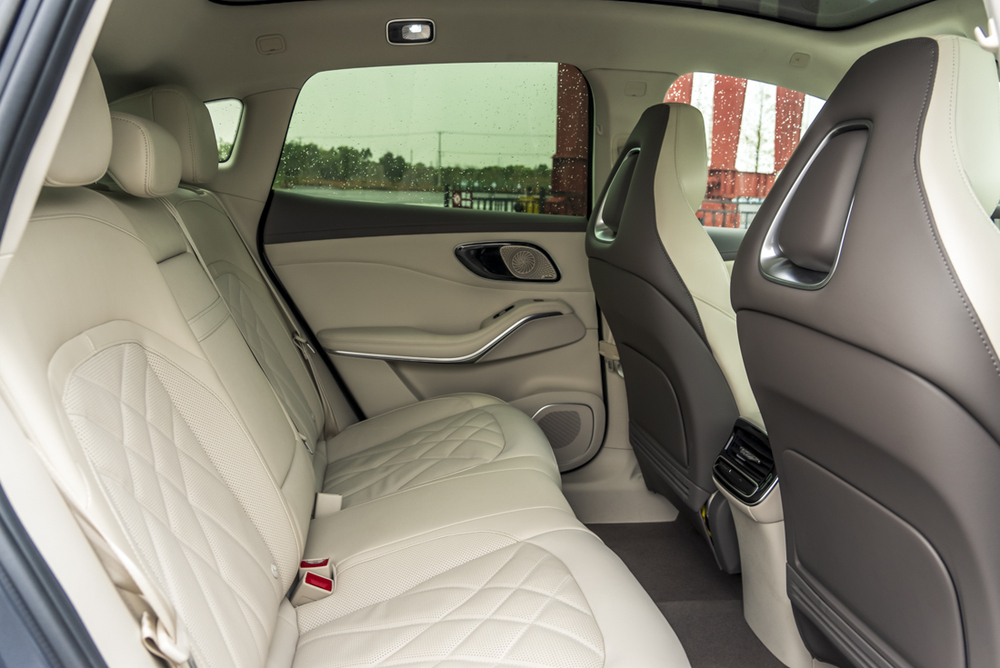 It's fast…and that's about it
Rising Auto offers two battery packs for the R7: a 77-kWh pack that is only available in the base model, and a 90-kWh unit that's used in long-range and Performance versions. Rising Auto says a base car can manage 551km on the CLTC cycle, while long-range models can make it up to 642. Our Performance test car split the difference at 606km.
The big news, however, is that Rising Auto is only the second Chinese car company after NIO to offer battery swapping. Unlike NIO, which makes their battery swapping service available to all owners here in China, Rising says this option is only available to customers who are leasing their battery. That lease is similar to NIO's battery as a service, and costs about 175 USD per month for the 77-kWh battery pack, and 215 USD for the 90-kWh unit.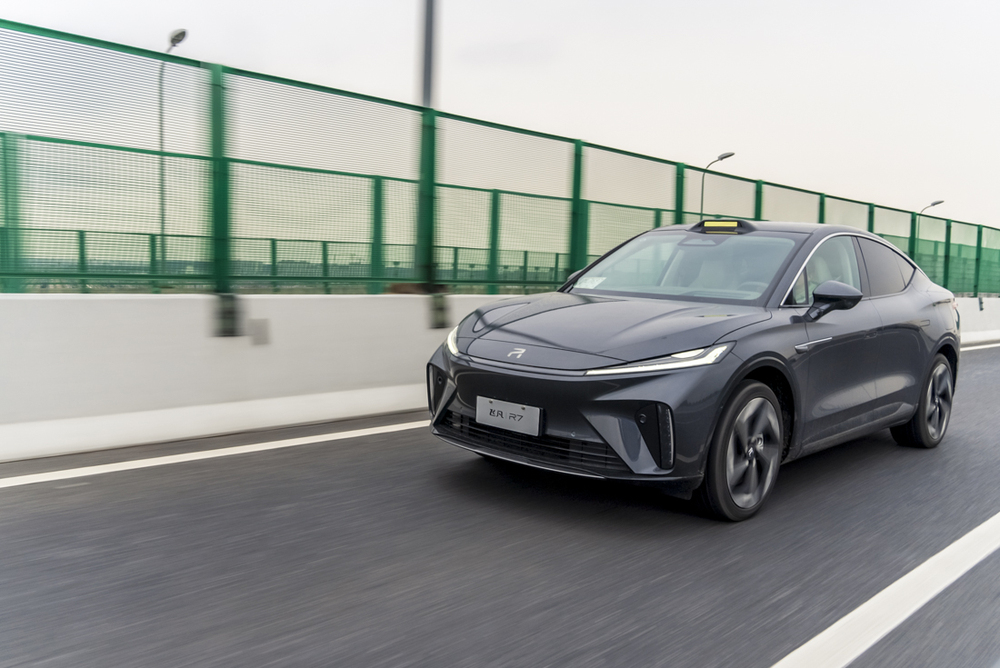 The R7 also has a couple other tech highlights, including the debut of Huawei's augmented reality heads-up display. Not only are the visuals larger than HUDs in other cars, it also has higher clarity as well. The augmented reality graphics include dynamic navigation prompts, as well as assisted driving information and overlays that highlight other vehicles. It feels like driving in a video game.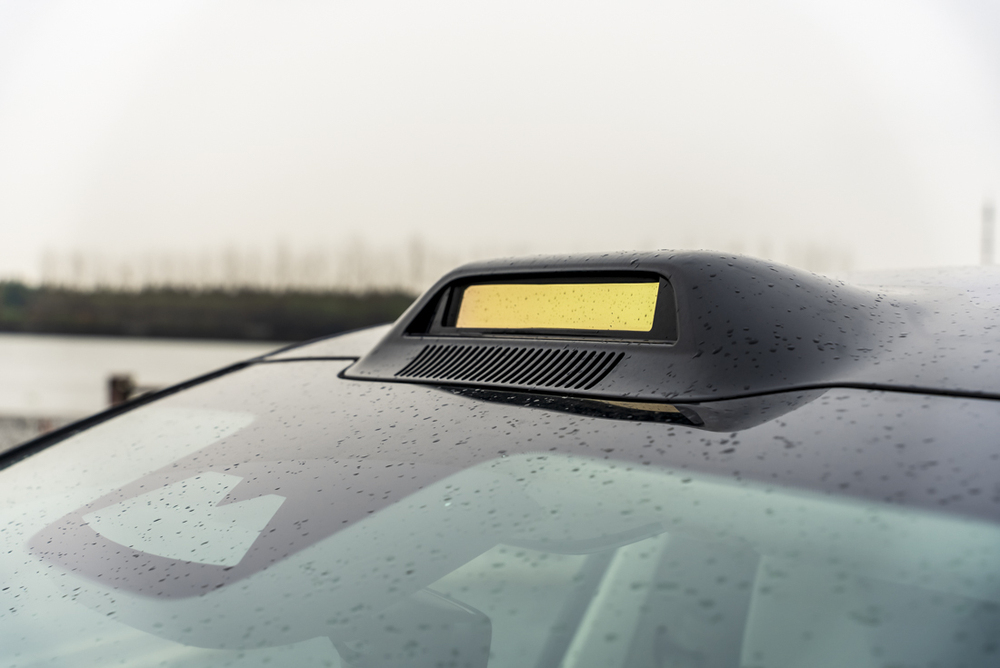 The R7 is also the first car to utilize a lidar unit from US startup Lumineer as part of its L2 driver assistance system. The lidar unit is a 2800 USD option on every trim, and adds another Nvidia Orin X chip for a total of two. The system includes highway navigation on autopilot, putting it on-par with competitors like the XPeng G9.
The R7 is available in both single motor and dual motor variants. The rear mounted single motor makes a 250 kW and 450 Nm of torque (340 HP and 333 pound-feet), taking the car to 100 km/h in 5.8 seconds. The dual motor, AWD version we're testing makes a much more impressive 400 kW and 700 Nm of torque (544 HP and 518 pound-feet). 0-100 happens in just 3.8 seconds.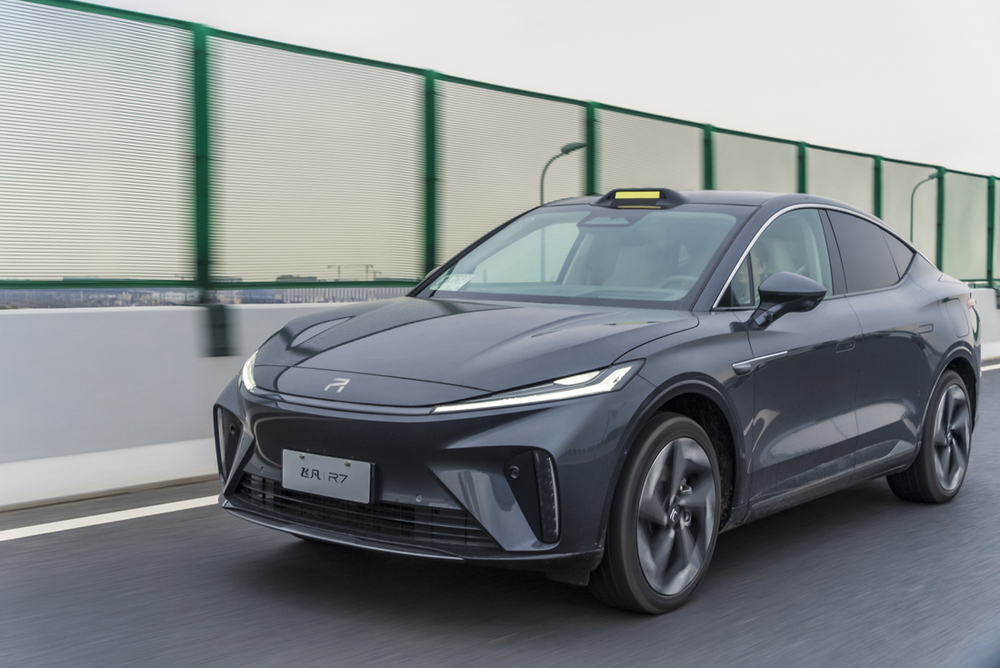 That number makes it the fastest SUV we've ever driven on the channel. But that's just about the only highlight I can find. When it comes to pretty much every other aspect of the driving experience, the R7 drives…acceptably. Not great, not bad, just fine. Unlike pretty much all of its competitors at this price, it uses a McPherson strut front end instead of double wishbone, and it shows in the way this car rides and handles. Put simply, it feels fine, but it doesn't feel quite as cosseting or responsive as I would hope.
Takeaway
The R7 has a driving experience that can best be described as acceptable for the price point, but it does have a few tech features, like that Huawei HUD that could bring in customers. I think the real difference maker is going to be how successful SAIC and their partner CATL are in proliferating their battery swapping network. If they can make their network as large and easy to use as the NIO network, then they may be able to shift some serious units.
Specifications
Rising R7 Performance
Motor: Front + Rear-mounted

Power: 400 kW, 700 Nm

Battery: 90 kWh

Range: 606 km CLTC

0-100 km/h: 3.8 seconds

Size: 4900*1925*1655

Wheelbase: 2950 mm

CDM Price: 53,000 USD (55,800 as tested)