What is it?
One of the most surprising success stories of 2022 was Neta, an EV startup that went from struggling along like so many of its contemporaries, to being one of the best-selling brands in the entire EV market. High on this success, the company has launched their most audacious vehicle yet, the Neta S. This mid-sized sedan taking the company more upmarket, and putting it in direct competition with offerings from more established startups like XPeng, as well as industry giants like Tesla and BYD.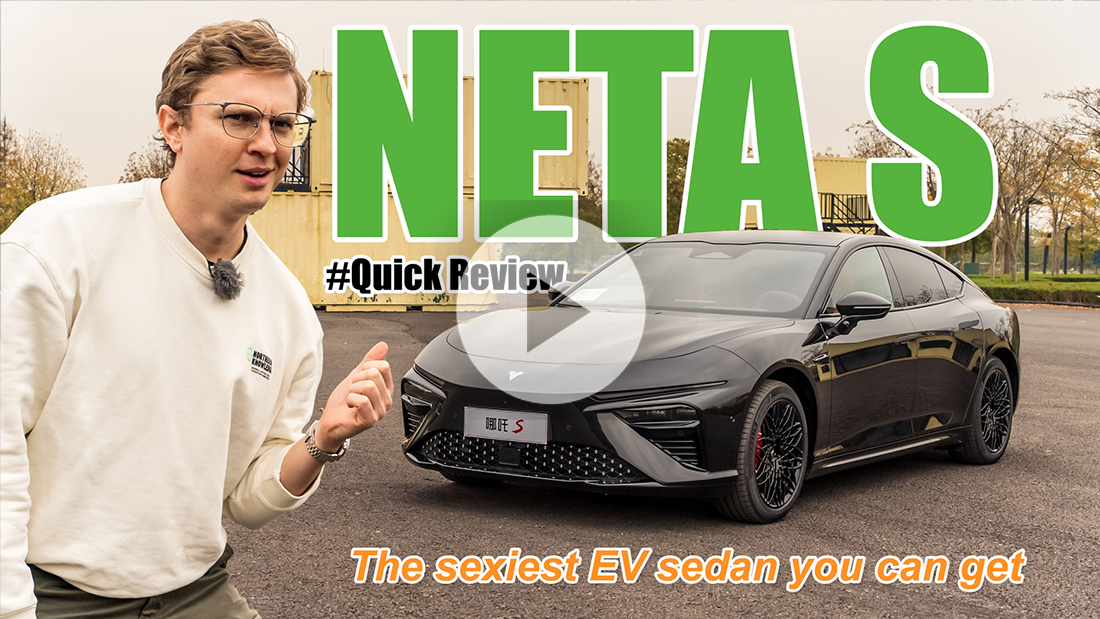 Darth Vader's daily commuter
If car purchases were based on looks alone, the Neta S would likely be the best-selling car in its segment. Pictures don't do it justice, as I learned when I picked it up from an industrial area in northern Shanghai. It glided, predator-like from behind an XPeng P7 that was parked on the side of the road. The XPeng, while one of the best and most influential designs of the last five years, seemed to fade into the background.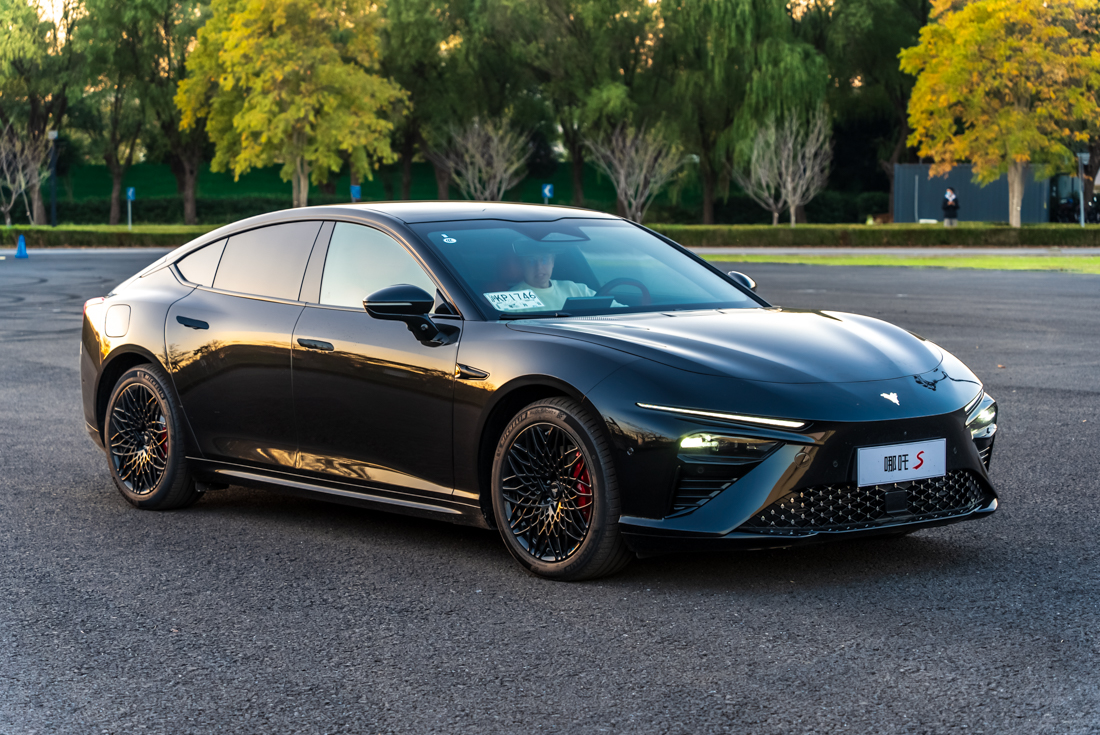 The sinister front-end design of our Performance spec test car was only emphasized by the black paint, which nearly hides the tiny slash of LED daytime running light until you turn them on. At which point, this thing seriously looks like Darth Vader's daily commuter. Lighter colors show off the wide rear end and sloping roof design, but black adds just enough menace to keep things interesting.
Quibbles? The wheels are a bit overwhelming, and should have been 20 inches instead of 19 to better fill the wheel gap. Nothing is free in this world, and that roofline takes its toll on both rear visibility, which is almost down Lamborghini-levels of bad. Rear trunk space is also unimpressive for a car that's slightly longer than a BMW 5-series.
But these are quibbles, and don't stop this from being the best-looking car in its segment.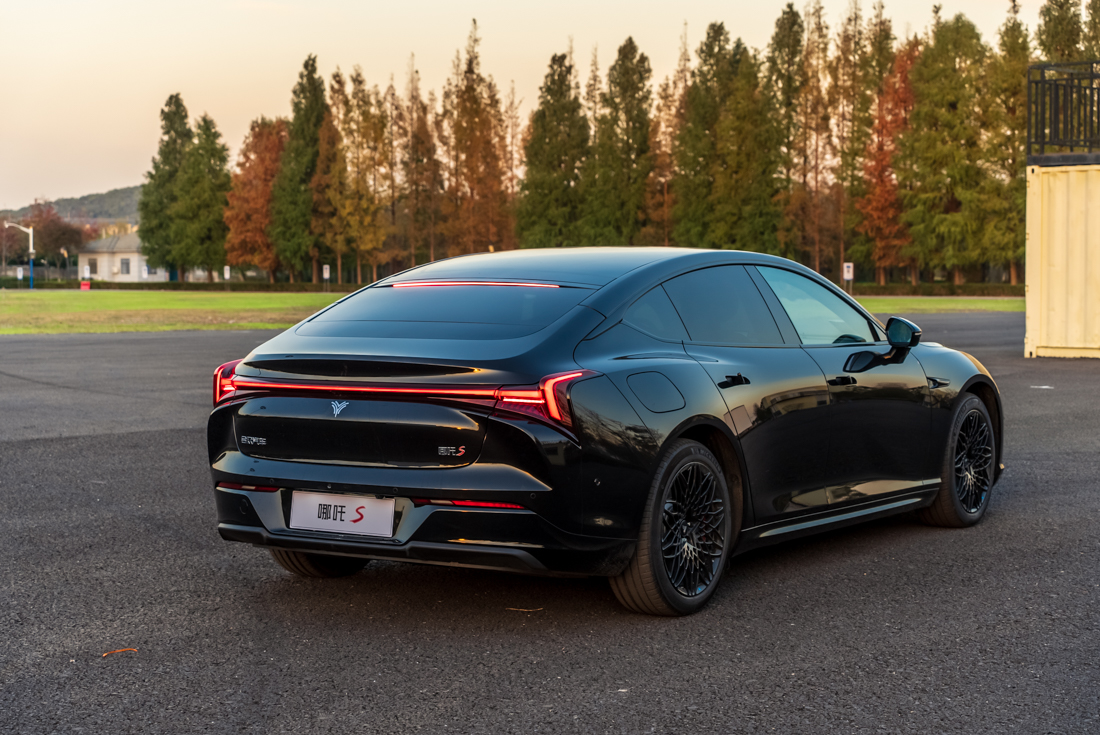 Higher price, higher expectations
Close the door of the Neta S and you are greeted by cheap tinny noise that is warning of what's to come. This is by far the most expensive vehicle Neta has ever sold, their previous efforts being focused on small SUVs and hatchbacks that were priced anywhere from 11-27,000 USD. The cheapest version of the S is an extended-range EV, and starts at 28,000 USD. Pure EV versions start at 35,000, and the performance version we're driving today costs a little over 40,000.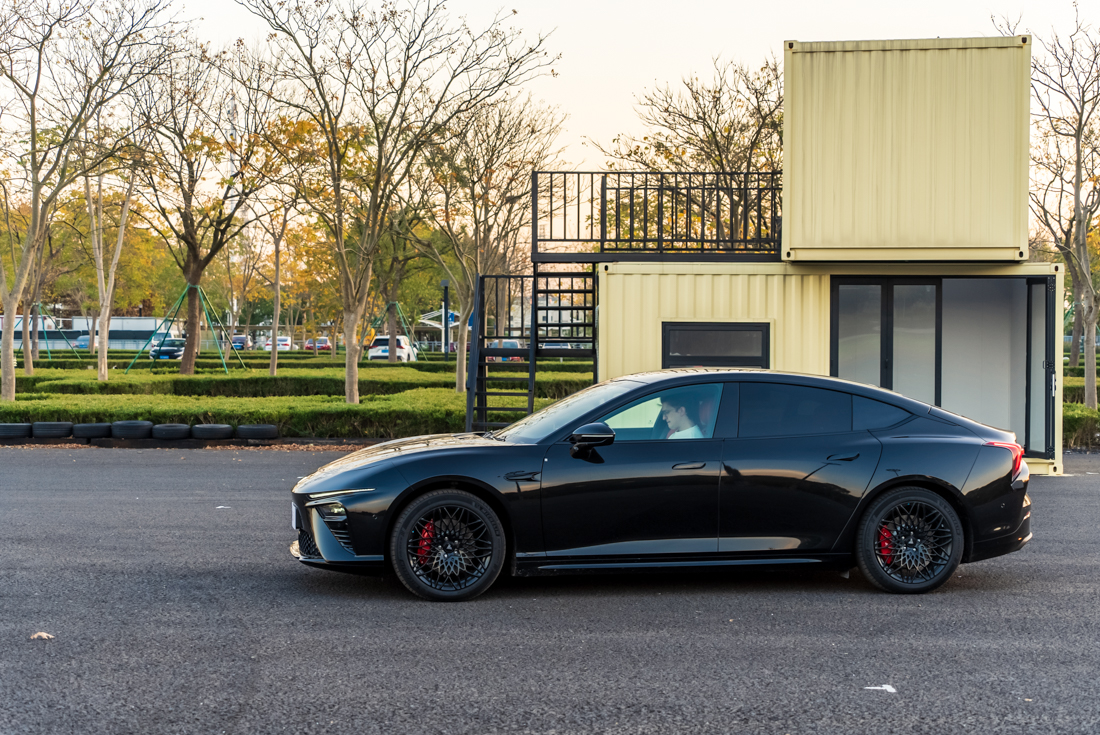 The amount of cheap, hard interior materials you get for that price is noticeable. The heated, cooled, and massaging seats use real leather and microsuede, but almost everything else doesn't feel premium. Take the lower dash, which is made of an orange, rock-like material. The center console is also trimmed in cheap piano black plastic that squeaks when you touch it. There's more of that cheap plastic used for the capacitive touch buttons on the steering wheel and door switches, which don't work very well (do they ever?).
Thankfully, there's plenty to distract you from the cheap materials in terms of both design and tech. The burnt orange dash isn't pleasant to touch, but I actually quite like the vibrant look that it brings the interior. That goes for the "fractal" wood trim as well.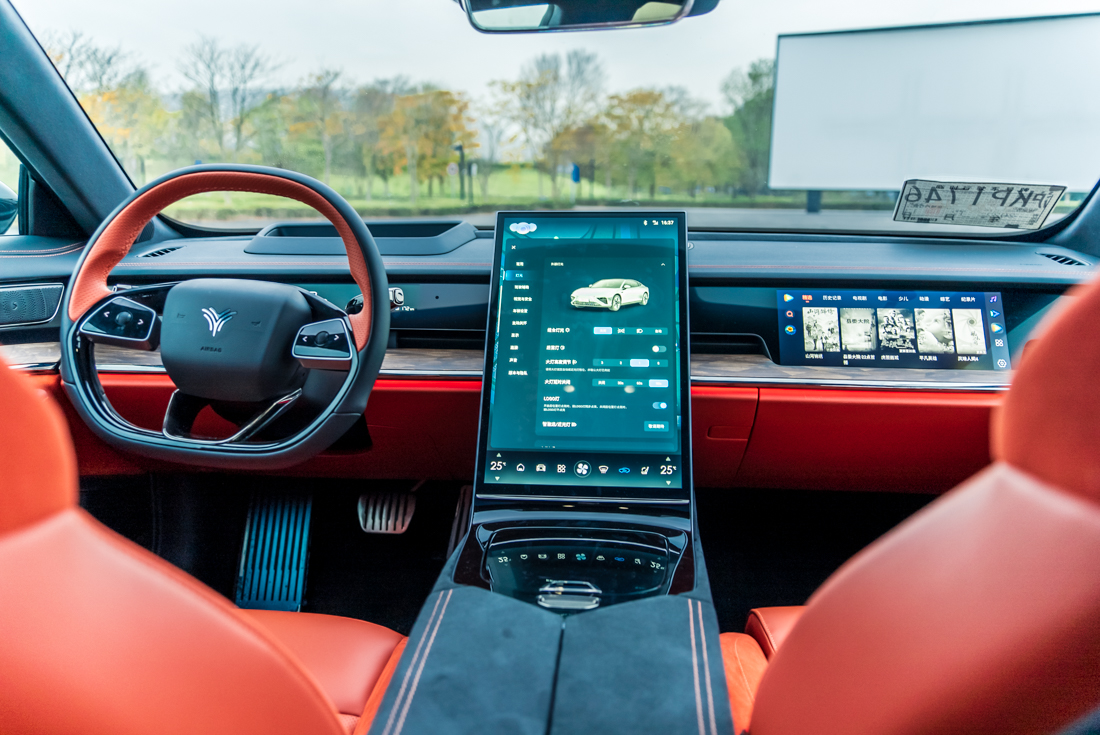 There's also the small fact of that big center screen, which measures 17.6-inches and controls more or less everything in the car, all the way down to adjusting your seat. Passengers, get a 12.3-inch screen all to themselves, something that's actually quite rare at this price point. Also rare is the 21-speaker sound system with headrest-mounted speakers on the front row.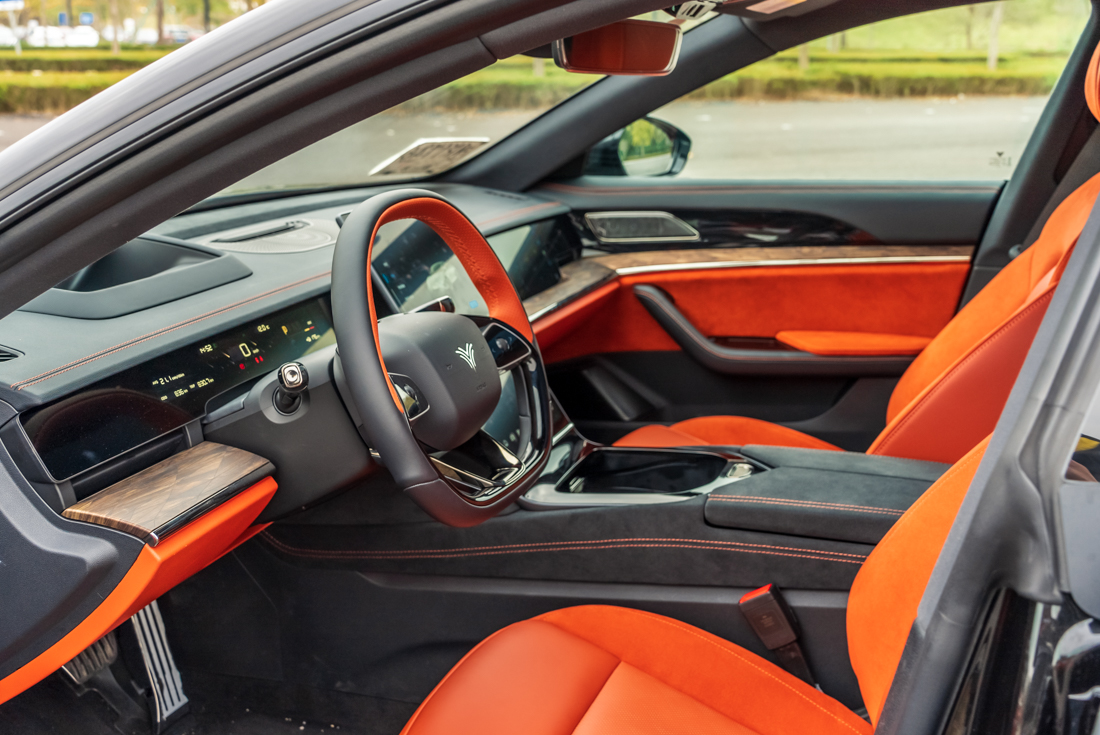 That massive center display might make the headlines, but my favorite screen is the very sleek, very simple, almost retro-futuristic instrument cluster. It has all the information you need, and none that you don't. You can even turn it off entirely and rely solely on the heads-up display.
The rear seats hold some surprises of their own, including adjustable rake. The only other car at this price point that offers this option is the BYD Han. This opulence is somewhat undermined by the fact that it is operated via a frustrating and janky feeling capacitive touch panel located on the fold down center armrest. When it comes to legroom, the Neta is easily a match for slightly smaller cars like the BYD Seal, but headroom is at a serious premium.
A promise unfulfilled
Our Neta S was a preproduction vehicle, meaning a great deal of its features, including the augmented reality heads-up display and Neta Pilot, its driver assistance system, had not been activated. That system can feature a lidar unit if you purchase a package that also includes an upgraded chip that takes computing power from 16 TOPS to 200 TOPS.
Thing is, that lidar is only available on a single trim that costs 46,000 USD and uses the rear-wheel drive powertrain. It is not available on the dual motor version. In other words, by forgetting about the lidar and buying a performance that costs about 40,000 USD, not only are you saving all that money, you also getting literally double the power, for a total of 340 kW and 620 Nm of torque (462 hp/459 pound-feet). Which one would you choose?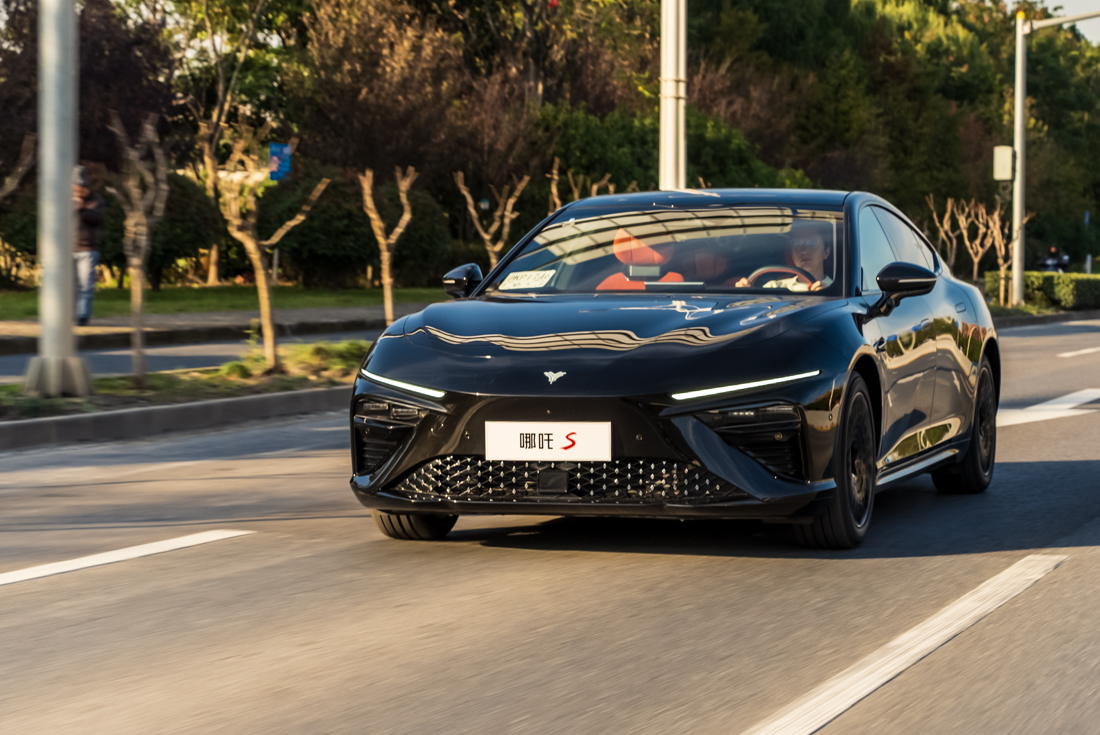 Opting for the performance will get you a larger battery too, measuring 91 kWh and netting you 650 km of range on the CLTC cycle. Rear-wheel drive models manage 715 km of range from an 85-kWh battery.
The S has a longer wheelbase than all of its direct competitors, including the BYD Seal, XPeng P7 and Tesla Model 3. That, combined with the double wishbone front suspension and five-link rear should result in a top-notch ride quality. But honestly, it doesn't. The ride of the S feels less premium, less solid than the BYD or the Tesla. The NVH is also worse, particularly motor whine at highway speeds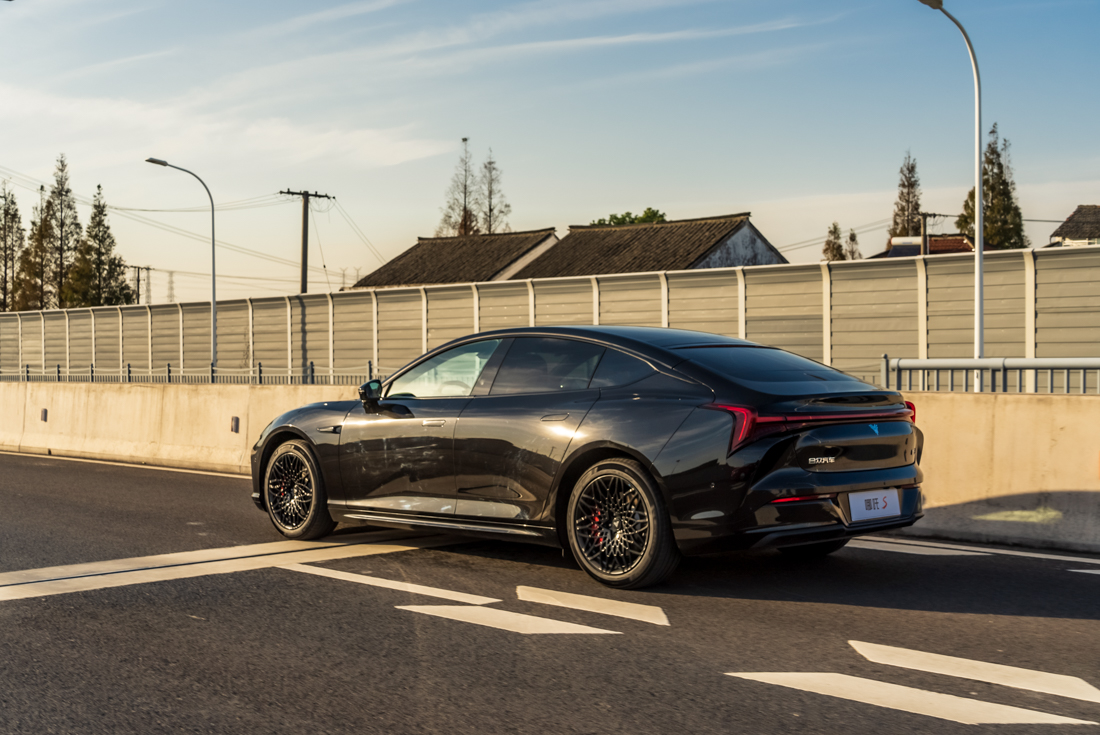 Nor does it handle like those cars. They have very confident turn-in, while the Neta just feels slower to react to steering inputs. It also tends towards understeer. This is one of those times where a car's styling can work against it. I expect this thing to be very sporty, because it looks like the car a bad guy would drive in a movie, but instead it feels more budget.
Takeaway
The Neta S is an impressive first effort from the company, and it should sell quite a few based on the looks alone. But it's also clear where they spent their money (i.e., styling, interior technology) and where they didn't (i.e., interior material quality, chassis tuning).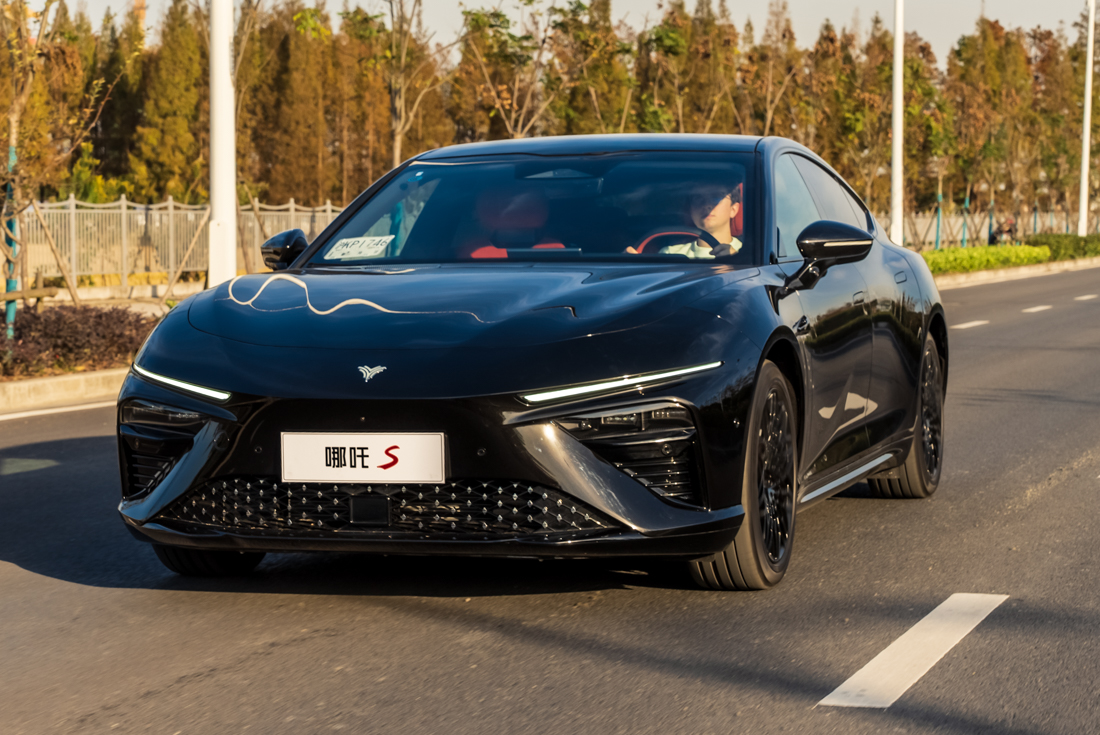 Specifications
Motor: Front + Rear-mounted
Power: 340 kW, 620 Nm
Battery: 91 kWh
Range: 650 km CLTC
100 km/h: 3.9 seconds
Size: 4980*1980*1450
Wheelbase: 2980mm
CDM Price: 40,000 USD