What is it?
Denza is a somewhat ignored BYD-Mercedes Benz joint venture, and its previous models were a testament to the increasing disinterest the German half of the partnership was taking in the whole project. While the brand's first model had plenty of Mercedes tech, their second model, the Denza X, seemed like nothing more than a BYD Tang with a bit of lipstick. Now, Mercedes have reduced their stake in the brand from 50% to just 10%, meaning this latest round of Denzas should have even less contributions from the Germans. Will that result in an inferior project, or will BYD step up to the challenge and finally deliver a premium vehicle with the Denza D9 MPV?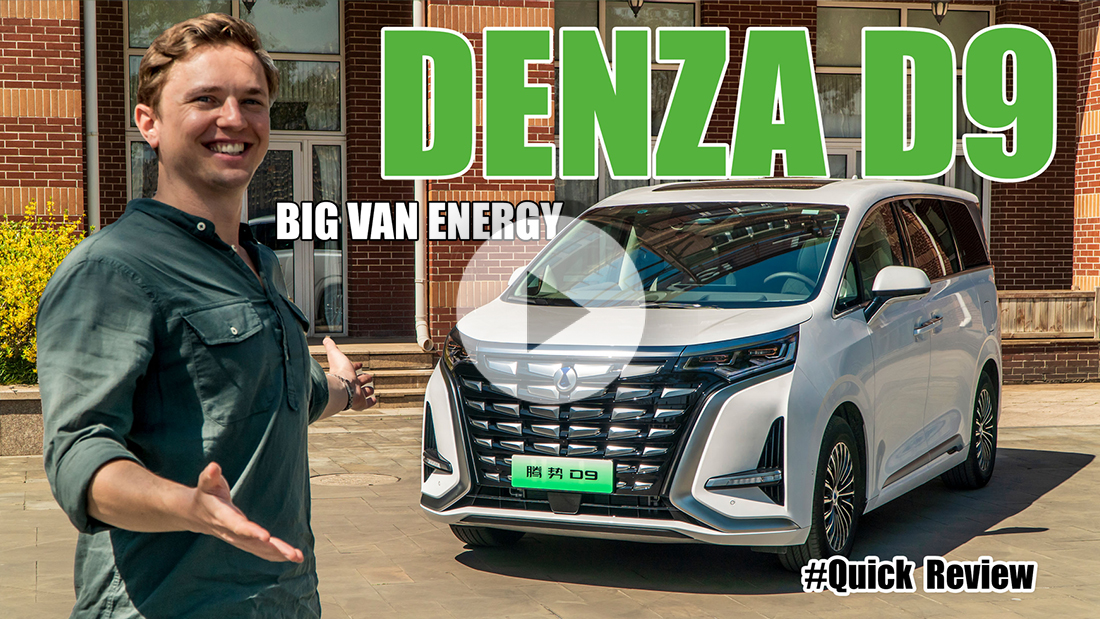 Big van energy
A rose by any other name would smell as sweet, and an MPV by any other name is still just a big box. In the modern MPV market, you separate your box from other boxes by giving it a big face. The face of the D9 is relatively tame compared to some of its peers, and eagle-eyed automotive enthusiasts can learn quite a bit about the car if they know where to look. If you spot one with the repeating, wing-like pattern, then you'll know it's a plug-in hybrid model. If you see vertical chrome strips, then it's a pure EV.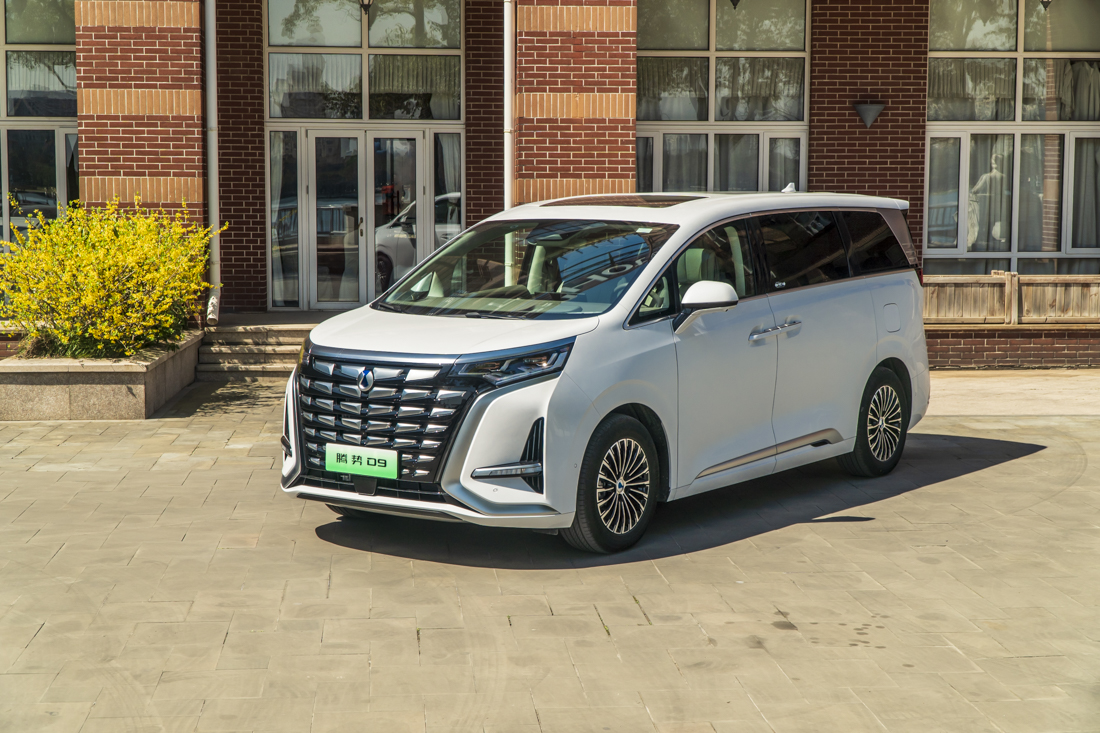 As the grill indicates, as well as the fact that there's a 1.5 liter turbocharged four-cylinder under the hood, our test car was a PHEV. To further complicate things, there are still three different versions of the EV, each with a different combination of battery and motor. Those models have anywhere from 50-190km of EV range on the WLTC cycle, with a combined gas and electric range of 945-1040km on the NEDC cycle. Our test car was the ranging-topping dual motor PHEV model that makes 299 kW and 681 Nm of torque (400 hp and 504 lbs-ft). It has a pure EV range of 180km thanks to a 40.6-kWh battery, and a combined range of 970km.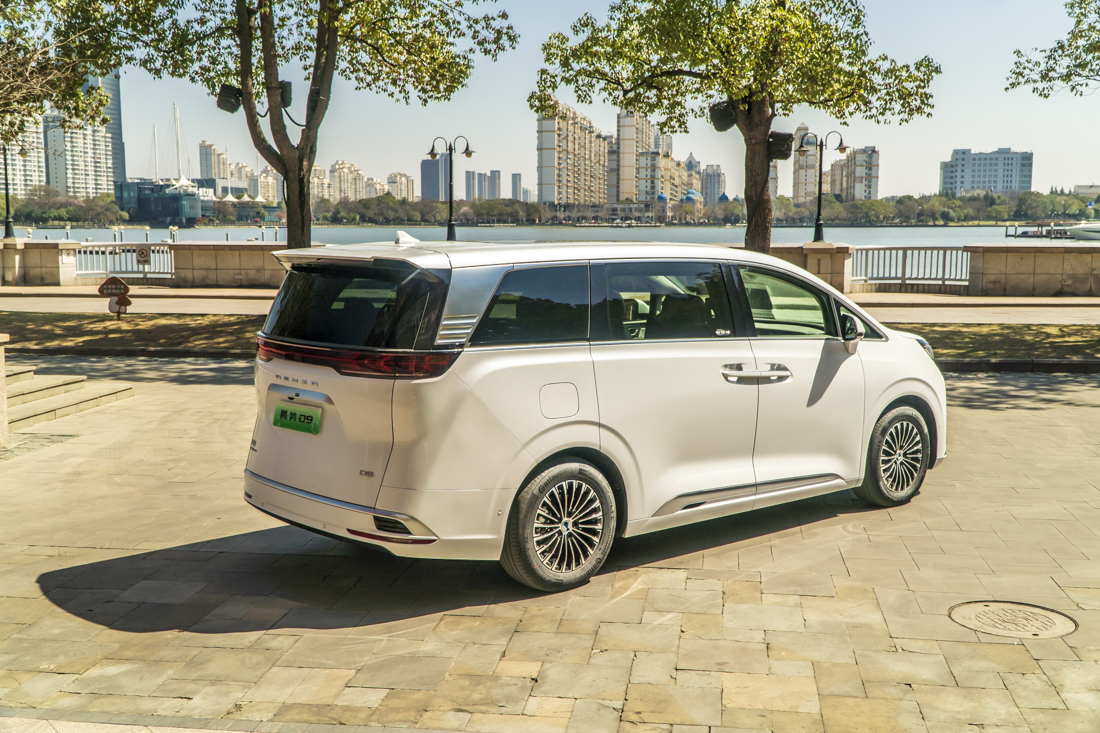 The pure EV versions use a 103-kilowatt hour battery pack and deliver anywhere from 600 to 620 kilometers of range, depending whether you choose the single front mounted motor or the dual motor version. Of course, that range is offered in China's CLTC standard, because why offer your range in one standard when you can do it in all three?
A luxurious estate
I like to conceptualize my large luxury MPVs as an estate. An estate should have a main house, where the owner lives, and a servant's quarters where "the help" reside. In this metaphor, the second row is the main house, and the first row is the servant's quarters. I guess that would make the third row some kind of shed attached to the main house. It's a sweaty metaphor, but you get my point.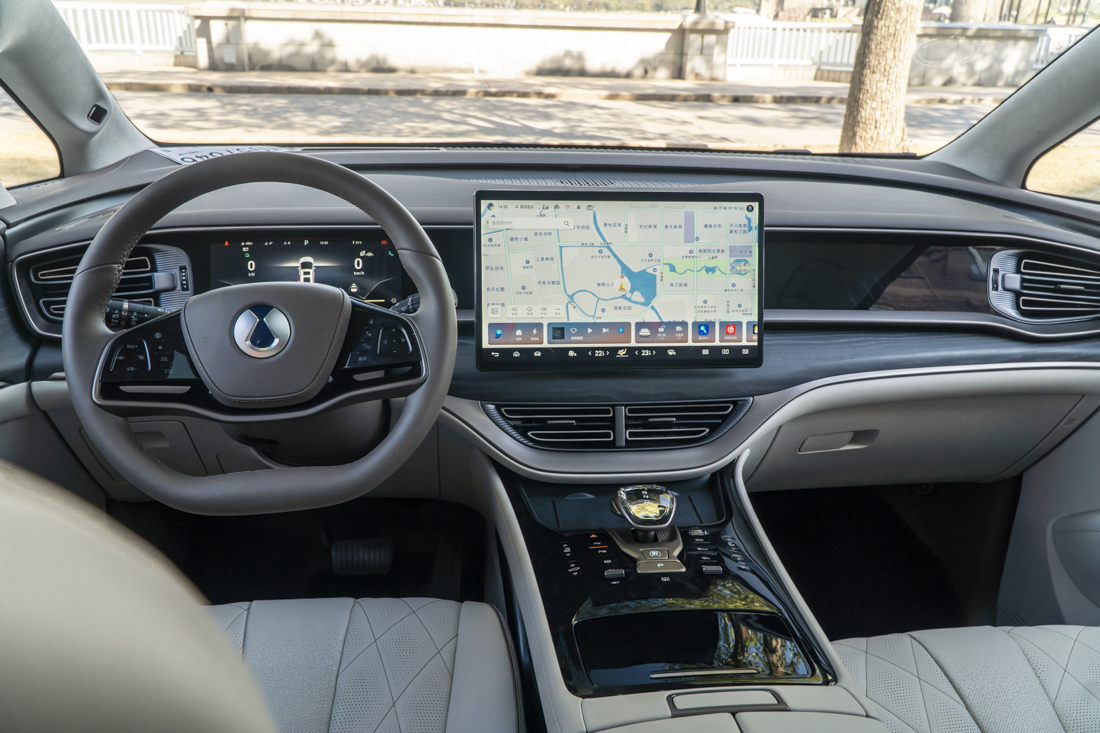 Servant's quarters it may be, but the front row of the D9 is still a nice place to spend time. There you will see the first of many screens, a 15.6-inch infotainment display and a 10.25-inch digital instrument cluster. Aft of the transmission lever lurks my longtime nemesis, a bunch of capacitive touch buttons that control everything from the powertrain mode (EV vs Hybrid) to the parking sensors and AC functions.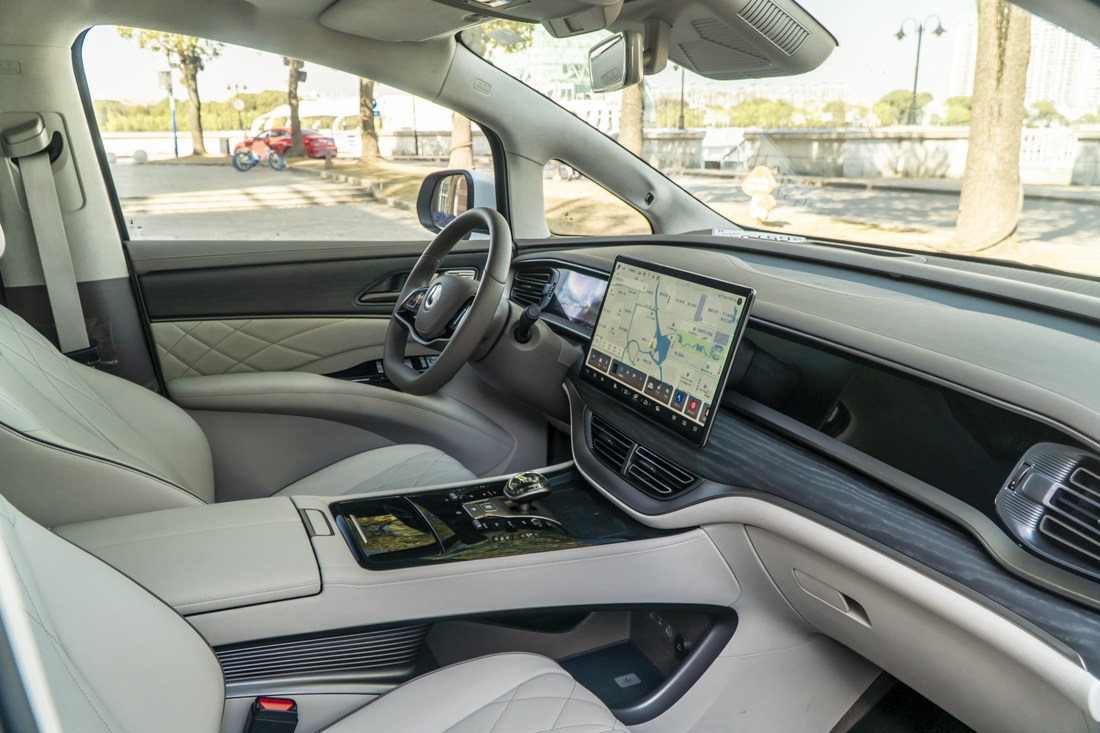 Interior material quality and fit and finish is impressive, and it should be considering the fact that they're asking 65,000 USD for our test car. A vast majority of surfaces are covered in real leather and wood, the latter of which is highly reminiscent of the kind you'll find in Mercedes-Benz models like the E-Class. The seats also feel very high quality, both supportive and soft.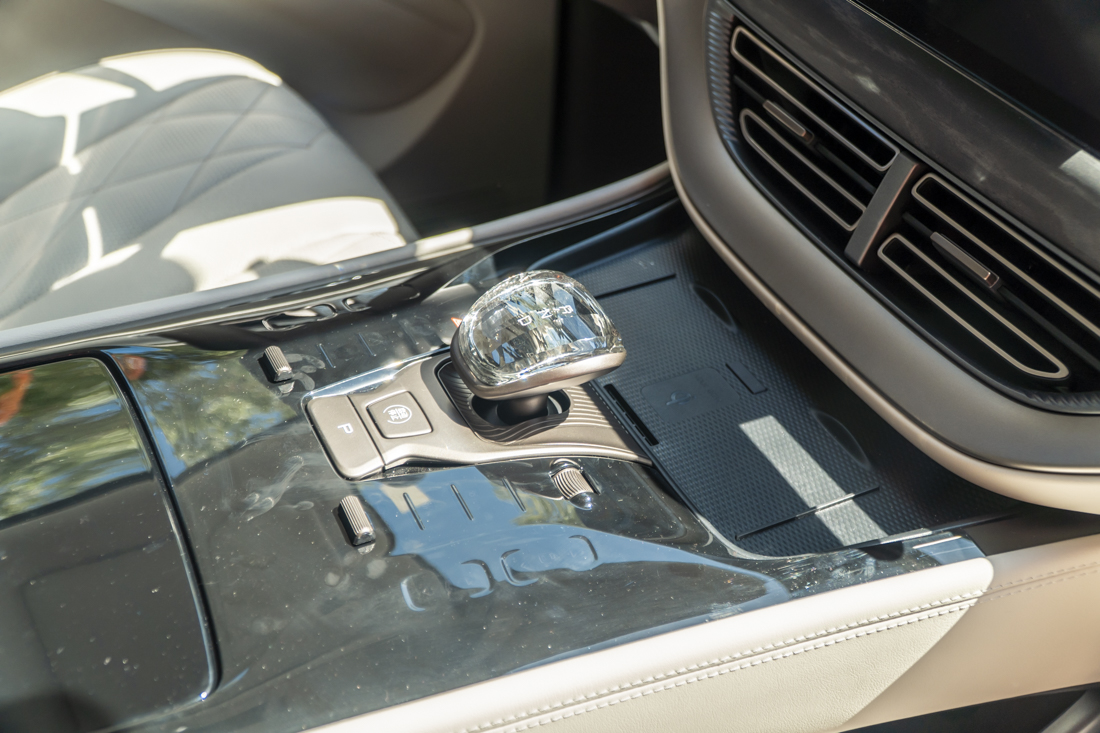 One area where the D9 falls behind traditional family MPVs like the Toyota Sienna is storage. Models like the Sienna seem to have a nearly endless number of storage solutions for items both large and small, while the D9 as to settle for a shallow center console and a difficult to access storage area below the shift lever. Traditional MPVs like the Sienna also have stowable third row seats, which is made impossible by the D9's battery pack and other running gear.
The two screens up front are only a warmup act for the real show, the four screens in the second row (there's also an HUD up front). In front of each passenger is a 12.8-inch infotainment screen that can be used to streaming music, podcasts, and videos. These two large screens and the front infotainment screen are connected, which means first and second row occupants can watch their own individual media, or push the same content to all three screens. We've seen that before, but the digital vanity mirror and the ability to make video calls are certainly a first. These are made possible by small camera that pops up when you activate either function.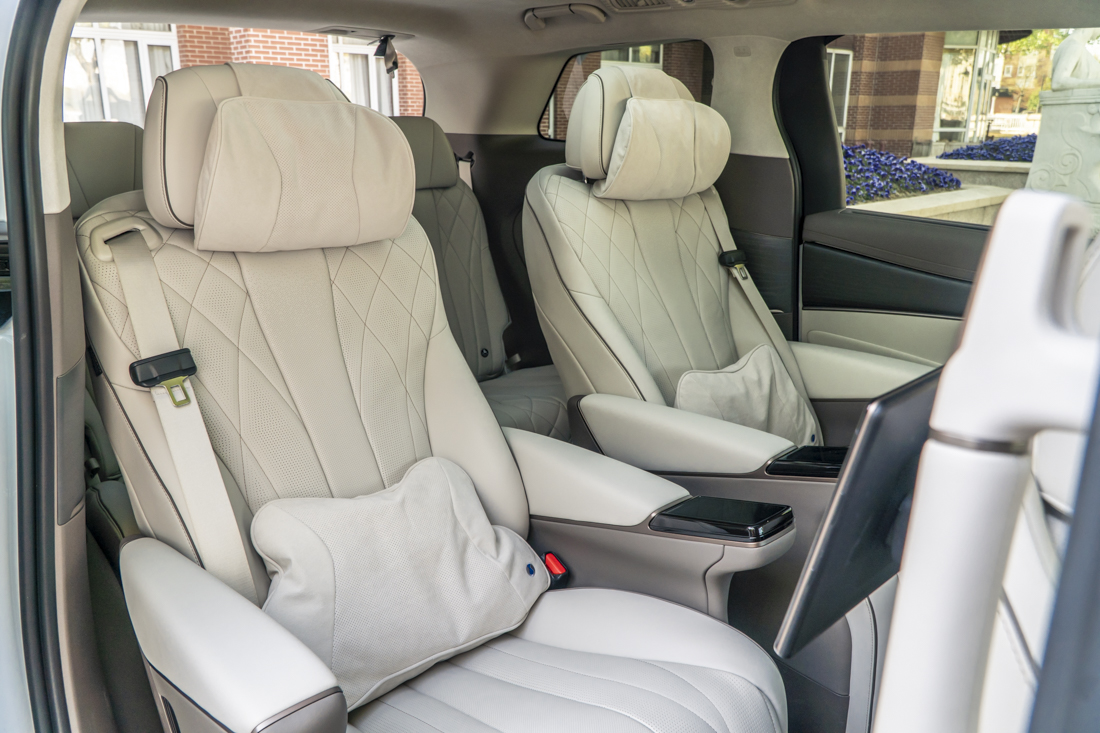 The screen party continues with the 5.5-inch LCD displays embedded in the armrests of each second-row seat. Unlocked with an upward swipe of the finger, these screens control all the seat functions, including heating, cooling, and massaging. They also open and close the second-row doors via a slider, as there is no physical button apart from the handle itself, which is difficult to reach once seated.
The D9 may not be as practical as a Sienna, but it does have a few tricks up its sleeve. The "Magic Box" is a small storage compartment on the back of the center console that can only be opened and closed via the infotainment screen or the 5.5-inch LCD. It's a pretty nifty, if not especially useful feature. Even better is the compartment underneath that won't open at the touch of a button, but can keep items cold or hot.
Second row passengers can charge their devices via a USB port on the side of the seat, or via a slot with a wireless charging pad. Rear passengers make due without a wireless charging pad, but do have a USB port on either side. The third row also has adjustability both forward and aft, as well as adjustable rake Behind the seats is 410 liters of space, but you can increase that by folding down the third row.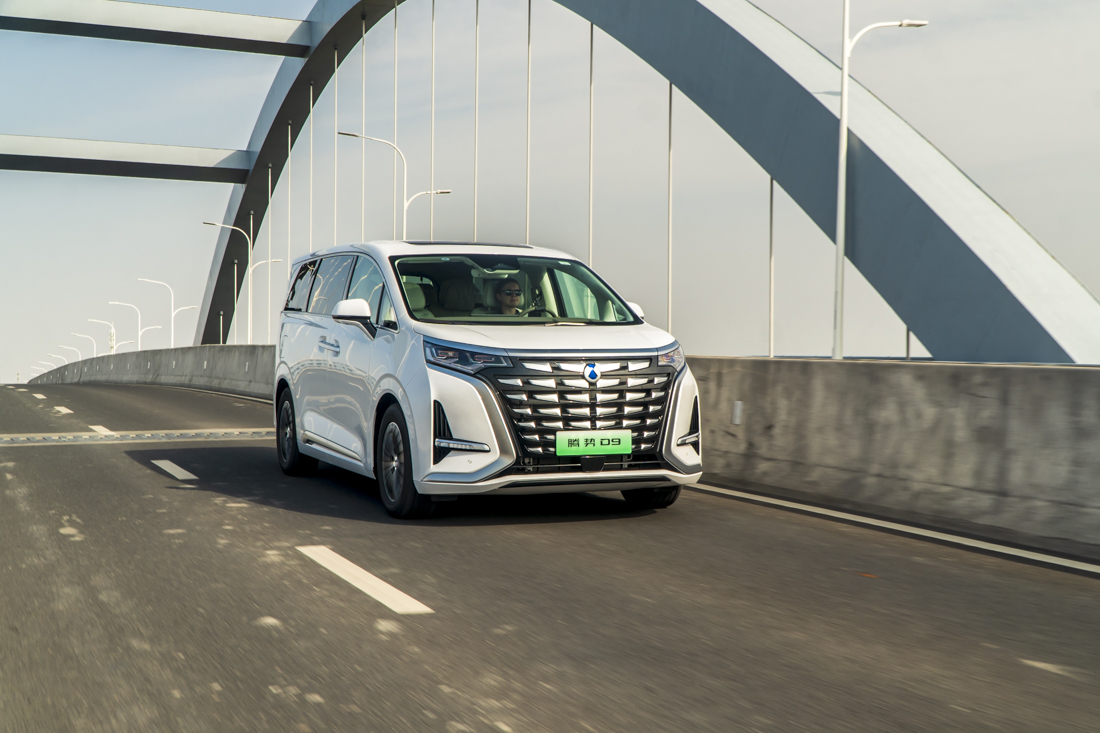 Now this is more like it
I would have loved to have been able to experience the full EV version, as I've always felt that the combination of a smooth, quiet EV powertrain and the natural characteristics of a big MPV would work well together. Thankfully, the PHEV delivers almost all of that experience, and it's exactly what I thought it would be; smooth and serene. It emphasizes all the best things about big luxury MPVs. When the 1.5 turbo and E-CVT do kick in, they're not especially intrusive. That's because Denza seems to have gone to great lengths to try and control NVH, including double pane glass all around.
The biggest improvement, however, is undoubtedly the ride. Previous Denzas just felt like their cheaper BYD counterparts. This was a particular problem with the Denza X, as the Tang upon which it was based had a supremely unimpressive ride. Denza was always supposed to be a premium brand, but this is certainly the first Denza to drive and ride like one.
Takeaway
The D9 is the best vehicle that Denza has ever produced, and the first to actually feel premium. BYD is flush with cash due to its ongoing domination of China's new energy vehicle market, and it seems they are intent on using that cash to turn Denza into a winner.
Specifications

Denza D9 PHEV

Engine: 1.5L turbo 4-cylinder
Motor: Front+Rear-mounted
Power: 299 kW, 681 Nm
Battery: 40.06-kWh

EV Range: 145 km (WLTC)
Combined Range: 970 km (NEDC)

0-100 km/h: 7.9 seconds
Size: 5250*1960*1920 mm
Wheelbase: 3110 mm
CDM Price (as tested): ~65,000 USD